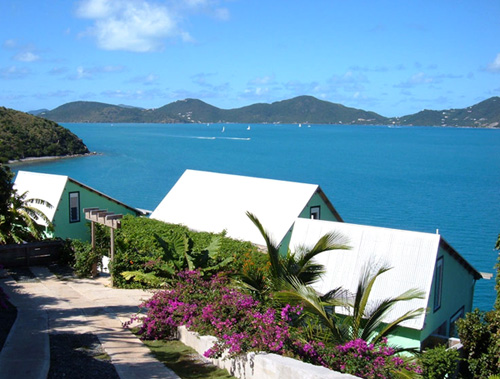 The Retreat on St. John, the smallest and most beautiful of the U.S. Virgin Islands, is a uniquely spectacular oceanfront rental villa. The Retreat has 2 bedrooms, 2 baths, a lap pool, and views of the Francis Drake Channel and British Virgin Islands.



Built with an eye for elegant simplicity, The Retreat perfectly complements the natural beauty of its hillside setting above one of the most pristine beaches in the world. Every room in The Retreat features breathtaking views. You can stand in the kitchen and watch fish swim through crystal-clear aquamarine waters or relax in bed while looking out across the bay to the island of Tortola. Inside, each room is tastefully furnished with four-poster beds, slate floors, vaulted ceilings, and modern amenities.

The Retreat offers luxurious accommodations for up to 10 adults and features a jetted hot tub, a lap pool, a private path to the beach, air conditioning, a gourmet kitchen with all appliances, and much more.

Come stay with us, and discover the pleasure of a perfect place, a place to simply be.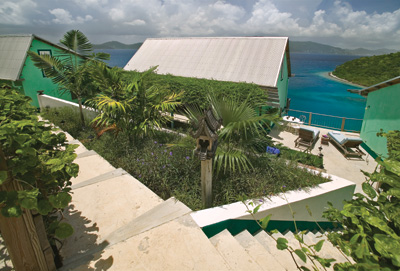 The Retreat consists of three separate richly-hued pavilions centered around a private garden courtyard, on a hillside above beautiful Dreekets Bay on the secluded east end of St. John. A 40' lap pool runs the length of the courtyard with a jacuzzi at one end for relaxing after a workout in the pool or a day at the beach. Comfortable lounge chairs on the deck around the pool create an ideal spot for private sunbathing.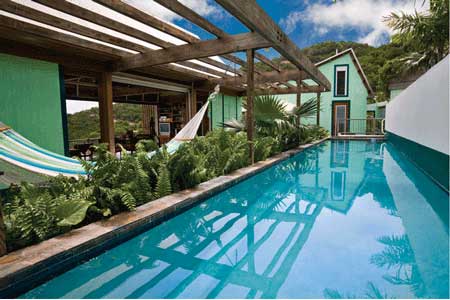 The Retreat's central pavilion contains the living room and a gourmet kitchen, while the two side pavilions each contain a separate bedroom suite. The bedrooms has closets, separate bathrooms, balconies, and completely private slate-lined outdoor showers with a view of the Caribbean. The bedrooms are furnished with Italian beds, ceiling fans, and air-conditioning. For extra sleeping space, lofts are tucked into the roof rafters of the bedroom pavilions to accommodate kids or extra guests. Each of the two lower bedroom pavilions, while on the same level as the courtyard and living room, is completely private from the rest of The Retreat.




Located on the pristine east end of St. John, Dreekets Bay is known among locals for having some of the best snorkeling and diving in the Caribbean. Reached by a scenic drive through the National Park along paved roads from Cruz Bay, The Retreat offers an experience of untouched, secluded natural beauty. You are secluded, yet just a fifteen minute drive from outstanding restaurants featuring local and continental cuisine in Coral Bay, with easy parking.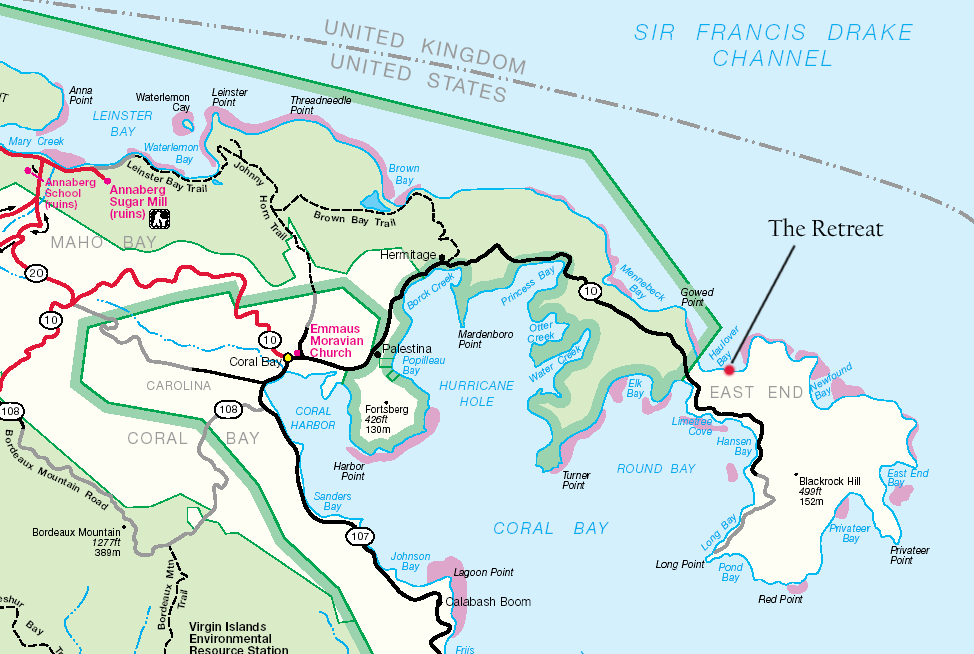 Stunning views of the bay and across Sir Francis Drake Passage to the magnificent island of Tortola encompass you as you approach The Retreat by road. Each room of the house is oriented to maximize these incredible sweeping vistas, second to none of St. John. No other homes overlook The Retreat, and across Dreekets Bay from the house lies the untouched landscape of Virgin Islands National Park. The front of each pavilion is a glazed roll-up door, allowing the entire wall to open up to tropical breezes and the view. Just 110' below the house down a private trail, you'll find a secluded sandy beach -- a perfect spot for sunbathing, snorkeling, or pure relaxation.

From the decks of the house, you'll see brilliant fish swimming in the bay, in the clearest, cleanest water on St. John. Because of its location, the beach at Dreekets Bay remains unspoiled by crowds, providing an unsurpassed setting for sunbathing, snorkeling and diving. Just offshore, waters teem with waving anemones, soft-corals, and multi-hued hard corals that shelter brilliant fish of all shapes and sizes. Dolphins and sea turtles play offshore, and lobster, black corals, and even rare Elkhorn corals are often spotted here.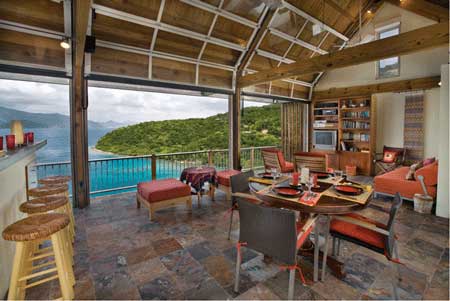 The Retreat is conveniently close to the town of Coral Bay yet stunningly secluded and untouched. The Retreat is perfect for romantic couples, adventure-seeking families, busy executives looking for solitude, and anyone searching for peaceful luxury in a setting of glorious natural beauty.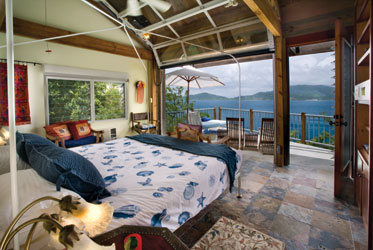 The Retreat is designed to accommodate up to 10 guests, its two separate bedroom suites allowing families or couples to enjoy complete privacy. On either side of the main pavilion, each of the two bedroom pavilions contains a European king bed, a loft with an extra-long double bed (accessed by a pull-down wooden ladder), a separate ensuite bathroom and a tropical outdoor shower with ocean views. Both bedroom suites are air-conditioned and are equipped with ceiling fans.



The well-equipped gourmet kitchen has all appliances. Located in the main pavilion the kitchen offers ocean views as well as a gas stove and oven, refrigerator, dishwasher, microwave, trash-compactor, professional quality cookware, and an eating bar. A laundry area with washer and dryer is adjacent to the kitchen. The living room of The Retreat, also in the main pavilion, contains comfortable seating and dining areas, along with satellite television, VCR, DVD player, surround-sound Hi-Fi, and library of books and movies. The pull-out couch transforms into one queen or two twin beds to accommodate extra guests.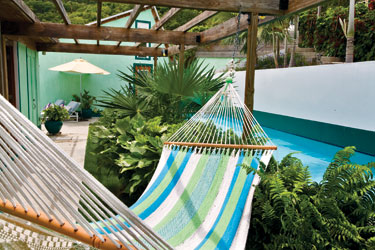 Other amenities at The Retreat include:
An outdoor jacuzzi, 40' lap pool, ceiling fans in all rooms, surround-sound stereo, fine linens for bed and bath, "memory foam" mattresses, outdoor beach shower next to beach trail, beach towels, chairs, and picnic coolers, 120-channel satellite TV, and automatic roll-down insect screens. Daily maid services, as well as full or partial catering, are available upon request (with additional fee).

==================================

Weekly Rates

Jan 7 - April 21
1-2 Persons $4,305
3-4 Persons $4,872
5-6 Persons $4,984
7-8 Persons $5,229
9-10 Persons $5,355

April 12 - Dec 15
1-2 Persons $3,297
3-4 Persons $3,710
5-6 Persons $3,857
7-8 Persons $4,004
9-10 Persons $4,158

Christmas/New Years -- Dec 16, 2017- Jan 5, 2018
1-10 Persons $7,119

Payment is accepted by money order, check, or credit card (via PayPal).

V.I tax is 12.5%.