Reviews of 1-Bedroom St. John Villas

Reviews include Aqua Bay Villas, Bambooshay, Captain's Cabin, Coral Dream, Garden By The Sea, In Harmony Retreat, La Barracuda Guest House, Meritage Cottage, Papaya Moon, Sea Cottage, Star Villas, String of Pearls, Tradewinds Cottage, Tranquility, Windcrest Garden and Windcrest Loft Suites

Following are reviews of some of the St. John vacation rental villas that are listed on www.stjohnvillarental.com. Note: As we receive St. John villa reviews, we will post them here.

If you have a review you would like to submit, please send to stjohncaptain@aol.com. Include villa name and date of trip. Include your first name(s) if you wish.

Aqua Bay Villas Reviews

Description of Aqua Bay Villas from St. John Villa Rental -- Aqua Bay Villas -- A Virgin Islands Paradise close to Cruz Bay, St. John. 4 private and distinct villa suites -- Dolphina, L'Isle Amour, Azul La Mer, and A' La Plage. Each of the large and comfortable suites comes complete with master bed/bath with a/c, full kitchen, living room, decks, and ocean views. A pool, barbecue area, and welcoming gazebo add to Aqua Bay's charm. Perfect for 1-2 people, with sleeper sofas in the living rooms providing extra space if needed.



Peter & Jane, NY:
My wife and I had the pleasure of staying in the L' Isle Amour suite at Aqua Bay Villas 2/6 - 2/12/11. Their four separate suites, each with a private entrance, are secluded behind a private, gated, stone wall entrance. Upon entering, one immediately notices the shading, lush vegetation and serene fountain bubbling in the side courtyard.
Once inside this villa hideaway, you are greeted with a cool breeze and sunshine streaming in through the many windows and the doors that open onto the spacious patio. The villa's living space was decorated with style and comfort in mind. The kitchen and eating area was cheerful, bright, and well equipped. A joy to cook in! The ceiling fans coupled with the breezes off the ocean made the villa cool and inviting. Stepping out on to the patio you can listen to birds, watch an Iguana laying lazily in a tree and gaze out onto the Island scenery and water. Plenty of space to dine, lounge and grill on the patio.
The bedroom and bathroom were accessed by climbing the spiral staircase. The four poster bed and matching end tables gave the feel of a lush plantation home. Finishing touches included crisp designer bed linens and accessories.....so comfortable and inviting. Air conditioning and ceiling fan kept the room cool and comfortable to induce a restful sleep. The view from the bedroom patio was perfect for watching sailboats and sunsets. The bathroom was adequate in size, and supplied with thick, soft towels.
Everything you needed for beach travel was there: beach chairs, towels, cooler! The pool patio is set below the villas. It is very quiet, private, and surrounded by trees. There is a gazebo on the patio and it holds a large selection of books to choose from. The pool is a perfect size to float, and lounge in. The sparkling clear water was refreshing and the perfect ending of a day in paradise!
We were so pleased with our stay that we are already looking forward to booking the same villa for our next St. John stay.

Randy and Marilyn, NJ:
"We could not have stayed at a quainter or more convenient place on St. John than Aqua Bay Villas. We loved the new furnishings and Mary your manager was so helpful and friendly. We will definitely stay with you again and recommend your place to our friends and families. The service and accommodations were 10 out of 10!"

Toni-Marie & Neil McAuliffe, MA:
"My husband and I spent a week at Aqua Bay Villas and just loved it! The living area was spacious with a deck overlooking the pool, and the kitchen had everything that we could need. We especially loved the bedroom with a beautiful view across the Audubon pond. The high ceiling and balcony made it feel like a tree house. The location of the villa was another plus. We could easily walk to town or down to Frank Bay to watch the sunset. We had a wonderful time and will definitely return to Aqua Bay Villas."

Marcy, MA:
"We stayed at Aqua Bay Villas in August and loved it. It is much better than staying in a hotel; they say "there is no place like home" but Aqua Bay Villas is like having your own home on the island."

Go to Aqua Bay Villas
Go to St. John Villa Rental -- List of Vacation Rental Villas

Bambooshay Reviews

Description of Bambooshay from St. John Villa Rental -- Consider Bambooshay Villa (formerly "Coconut Cottage") the perfect place to go native or enjoy a romantic escape in the U.S. Virgin Islands. The villa perches on a hill amidst a small garden overlooking Coral Bay on the east side of St. John. Built for two, the villa has one bedroom (and a self-inflating mattress for an additional visitor), a living room and a modern bath. The kitchen is equipped with a gas range, refrigerator, dishwasher, coffeemaker, toaster and blender and is stocked with pots and pans. Ceiling fans and French doors keep the interior cool.



"Thank you so much for sharing your special home J. I have been to the island 4 other visits and loved each one, but I am so happy w/ my very own spot to relax and regroup." "I will never forget my time here."
Shelly

"Our visit and return to Bambooshay was to celebrate our 20th wedding anniversary…and celebrate we did – Vie's Beach, Lamshur, Francis, Maho – on the beach, snorkeling and dining at several island dining establishments." "We enjoyed sunsets on the deck, sunny days and some overcast, but how can you have a rotten day in paradise!"
Jim and Judy

"It's a bit of a "leap of faith" when you decide to rent a house via the internet. However, we couldn't have been happier with our delightful accommodations at Bambooshay. Fantastic views of Coral Bay from everywhere!" "Thank you for sharing this little slice of heaven!"
Floreen and Harry

"Thank you for allowing us to stay here! What a lovely cottage. We came here for our honeymoon & have loved every minute of it. The amenities are wonderful. We've used the beach guide book a lot as well as the map. Both have been very handy." "We've had a great time & would love to come back sometime. Thank you for your hospitality."
Dan & Megan

"We'll have to echo every prior statement in thanking you for your hospitality. We LOVED Bambooshay. From the location, amenities, and chill vibe… everything was awesome!" "You're home is lovely…comfy. Towels/beds really make this feel like a luxury destination. The views, truly magical! We WILL return." This was a retreat from our "corporate driven" lives in NYC, LA and Boston. Thank you for making your home so comfortable. Also, thank you for providing such a welcoming guide… Sharon! She's lovely. Much love,
The Ladies of NYC, LA and Boston."

"After a week in paradise many things come to mind when reflecting back on our first stay at Bambooshay. This was our first time in St. John and we couldn't have been more impressed. Your house provided early morning and late nights on the deck, outdoor showers, hammock, star gazing, grilled dinners and many, many other great memories." "We certainly will not forget this wonderful week at your very hospitable home."
Brian & Kalyn

Go to Bambooshay
Go to St. John Villa Rental -- List of Vacation Rental Villas

Captain's Cabin Reviews

Description of Captain's Cabin from St. John Villa Rental -- Ahoy there, matey! Welcome to Captain's Cabin! This quaint, secluded cottage was not in the rental market until 2004. Walk down the steps to Captain's Cabin, nestled on a wooded hillside next door to Horizons. Captain's Cabin is a perfect getaway for a romantic vacation for two. The octagonal shaped house has a wrap-around deck with 180 degree views of Drake's Passage, Virgin Gorda and Tortola.



Frank & Sharon
we enjoyed Horizons for a week in early February. If I were ever to go to St. John and was not able to get to the beaches, spending the week on Horizon's porch would be the next best thing. View is magnificant. The interior is well designed with beautiful wood framing and trim. We shared the house with another couple and accommodations were perfect.

Craig and Debrya
We stayed at the Captain's Cabin for ten days in June 2010. We had an awesome time and it is just extremely charming. The views are great and the place is set up very well. As far as dining out goes, Shipwreck Landing was our favorite. Skinny Legs also has great burgers. If you go to Lily's Gourmet Market in Coral Bay, pay attention as you check out. We were overcharged significantly two out of three times! Luckily we were paying attention and caught it. On the whole, our experience was great. The water was beautiful and overall the people in the area were friendly.

Sue and Dan,
Better late than never! I made the trip to St. John last August with my brother and a friend. It was amazing.
We meet people down there that said they made the trip down there and decided not to leave.
It's easy to understand why-- the scenery is amazing. The beaches are beautiful, the people are friendly as are the goats and chickens that roaming wild all over the island. The old sugar plantation ruins were amazing-- and every place we ate seemed to have a bunch of great locals.
I hope I can make it back before too long.

Kevin & Brenn
My wife and I stayed at Horizons cottage for our honeymoon in June 2009 and I still dream of going back! Sue was extremely accomodating to us and made it easy to just relax and unwind. After staying at Horizons I couldn't have imagined how different our honeymoon would have been if we had stayed at one of the pre-fabricated resorts on the island. Will definitely be back!

Frank and Jeanne
Second Visit -- This was our second stay at Horizon. I love this spot and the house, coming back felt like coming home. Coral Bay is the kind of place you can bring your life back to a reasonable pace - catch up on your reading - sit / snorkel on some great beaches - or get out on the ocean with a charter. If you want away from hustle/bustle, this is it. Friendly people in a friendly place. This house is 'as advertised' and more.

Jim & Sarah
Sue & Dan, We have been on St. John 7 or 8 times now, and our 3-week visit to Captains Cabin was the best yet! The view of the east end to Tortola, Virgin Gorda, Peter Island and Norman Island is fabulous. The accommodations were perfect for the two of us, and as it turned out, with strong northeast winds, the south beaches were the place to be. Having owned rental housing myself, I can appreciate the care that Sue and Dan give to maintaining and improving their properties. We'll be back next year!

Debbie & Sam
My husband & I brought our nephew and his wife to spend the week at Horizon's Cottage 1/31/09-2/07/09. Sam & I have visited St. John before and this was the first trip for John & Sandy. The house is not everything on the website, IT IS SO MUCH MORE. Everything from the layout, to the deck and to the incredible views. Waking up every morning to a beautiful sunrise is just what you need to start off a relaxing day. Horizon's Cottage is very close to some of the most beautiful beaches, Salt Pond Bay and Lameshur. Susan mentions a few local places but The Tourist Trap (Larry from New Hampshire) is a must and visit Lincoln at the bay below. He sells very cold beer and you can take a breathtaking walk in the bay below the house (wear your watershoes). Thank you again Susan for the Horizon's Cottage. I look forward to a future stay. Maybe next time Sam & I will try the Captain's Cabin.

Go to Captain's Cabin
Go to St. John Villa Rental -- List of Vacation Rental Villas

Coral Dream Reviews

Description of Coral Dream from St. John Villa Rental -- Coral Dream is a charming 1 bedroom villa in Coral Bay located near Louisenhoj. (See Louisenhoj in the 2-bedroom rental section.) Coral Dream has one bedroom with queen bed, a sleeping loft with queen bed, 2 baths, outdoor shower and a full kitchen/great room extending onto a large screened porch with fabulous views of Coral Bay and the BVI.



Judy (Milton, MA USA) -- Date of Stay: 06/30/11
The photos don't do this lovely villa justice as it is bigger than it looks. The main bedroom, on the first level with bathroom plus outdoor shower has AC, perfect as it was July. We really only had to use it to cool off the room at the end of the day before sleeping. On the main level, the loft bedroom, up a beautifully made staircase, got a very good breeze. The main level has 2 story high vaulted ceilings with wonderful breezes thru the windows and off the porch, which spans the entire length of the unit (as does the porch on the main level). The LR/DR was spacious with lots of comfortable seating. What we especially liked was the fully screened-in porch that doubled the living space with the wicker loveseat and chairs. From there we enjoyed the sunrise and morning coffee, and later the sunset reflected down the St Francis Drake Channel to the BVIs, as well as the Bananaquits that flew to the coconut that filled up when it showered and the sugar bowl we treated them to! The kitchen was well equipped so it was easy to cook when we decided to. Kudos go to the owners and caretakers who understand that cotton sheets are so much more comfortable, and provide fluffy, generous sized towels without using lots of softener! Everything was clean and well-maintained. The managers were quick to respond when a few light bulbs blew out, and helpful with local info, even though we knew the area. Mark and Donna were quick to respond to questions before we left for St John. The location was perfect with Lily's Market, for basics as well as a small but good selection of fresh meats when we decided to eat in. Just below was Aqua Bistro; when we raved about our first meal there, the chef came out to chat. We did go to Skinny Legs once and the food was not worth it, overdone, not hot, and mediocre. We also like Shipwreck Landing. We did not get to Miss Lucy's which we do recommend for Sunday brunch. We beach-hopped, snorkeled, read, lounged, explored, made a trip out to Sloop Jones studio for their clothes for us, and for gifts. We also took in Carnival on July 4th which was quite a spectacle! For those without a car, we observed the VI Tran buses go by routinely; their schedule was a bit loose but regular...for ex. the one leaving the East End going to Cruz Bay passed by Lily's Market at the foot of the hill anywhere from 12-25 after the hour. It was one of our better trips to St John; we just won't go in July any more as we did find it too hot.

Shirl (Florida) -- Date of Stay: 06/10/11
We loved staying in Coral Dream. The view and close proximity to Coral Bay was perfect! The caretakers are friendly and helpful if you need anything, or have questions. I hope to stay at Coral Dream for my next (6th) adventure to St John!! Thanks for sharing your wonderful home!

Kelly (Linden, MI) -- Date of Stay: 08/16/10
Thank you Mark & Donna Anderson for sharing your lovely home in Coral Bay. My husband and I had a wonderful time relaxing on the island for our 15 year anniversary (our first trip alone in 12 years). We hope to be able to come back to the island in the near future and stay at Coral Dream again!! The home was beautiful and the views were AMAZING. Loved all the little touches - flowers and very helpful books, menus, etc. It was great to have air conditioning in the bedroom as it was pretty hot while we were there - this made it comfortable at night for sleeping. Very convenient location - great being just up the hill from the Cocoloba shops - with Lily's Market & Aqua Bistro. We absolutely loved being on the quiet side of St. John in Coral Bay. Thanks for making our first trip to St. John one we will remember forever - hope to get back in the near future, and maybe this time we'll bring our kids with us as we know they would absolutely love it too!!

Jillian12 (NJ) -- Date of Stay: 04/24/10
This was an amazing place to celebrate our 6th Anniversary & Babymoon! GREAT views, clean house, A/C in Bedroom. Plenty of space to relax and enjoy the scenery. The Bananaquits (birds) that surrounded the property were pleasant and the sunrises on the screened in porch were some of our favorite memories. Highly recommend this house to stay in! Only neighbors were in the house up the driveway, but we only ran into them once the whole week.

Go to Coral Dream
Go to St. John Villa Rental -- List of Vacation Rental Villas

Garden By The Sea Bed and Breakfast Reviews

Description of Garden By The Sea Bed and Breakfast from St. John Villa Rental -- 3 Exquisite Caribbean Rooms -- Garden by the Sea B&B is the quintessential Caribbean home: bright, colorful walls; local art and paintings; gingerbread trim; lush gardens with coconut and banana trees; & nesting birds, iguanas, and peacocks. We are located in the heart of Estate Contant and Enighed – a funky little neighborhood within walking distance of Cruz Bay and 1 ½ blocks from Frank Bay Beach. The sun sets over "our" salt pond bird sanctuary every evening and the sun rises to the neighbor's crowing roosters. Garden by the Sea B&B is the place to relax, refresh, and rejuvenate. We are a 10 minute walk to town, therefore a rental car is not a necessity. The B&B is a 10 minute drive (by cab or car rental) to the famous north shore beaches of St. John. You will be served a delicious breakfast each morning on our tropically shaded veranda where you will be delighted by the bananaquit birds and geckos.



"We had the Time of our Lives!"
We visited Garden by the Sea in October, and were so sad when we had to leave. It was perfect! Beautiful view from our sliding door in our room, breakfast on the veranda was excellent, and the B&B is gorgeous! The mosaics on the floor are gorgeous!
The hospitality is second to none, Peter and Gail were so accommodating and wonderful! They were fun to talk to and get to know!
It was wonderful, we can't wait to come back!

"It's like staying with a friend in paradise."
This was one of the highlights of my honeymoon. The rooms are beautiful, the view is great, there are outdoor showers! and the breakfasts are delicious. Gail and Peter were wonderful, helpful hosts and my husband and I really enjoyed just lounging in the outdoor living area and chatting with them! Gail knows all the best restaurants and places to go. The B&B is walking distance to town, which is convenient for dinners and shopping. It's also a great example of eco-conscious luxury. They have solar panels on the roof and use solely rain-water - very cool. I wouldn't stay anywhere else!

"GBTS felt like home!"
John and Nancy are amazing hosts. We felt at home at once! The Wild Ginger room has a wonderful shower with a view to the sky! The food was fantastic. Walking distance to Cruz Bay yet very peaceful. We will stay there again on our next visit!

"Lovely place to stay on St John!"
We stayed at the Garden by the Sea B&B last week (5 nights in the garden suite). My husband and I were celebrating our 5th anniversary. It was the perfect place to get away and celebrate! From the moment we arrived until the moment we left, Nancy and John were really helpful and kind. They gave us wonderful information and advice about the island. They were available when you needed them, however it felt like we were staying in our own villa! Breakfast was always a gourmet treat and the fresh fruit smoothies, honor bar and snacks were a nice addition. The room was very comfortable and we loved the outdoor shower. No complaints. St John is a beautiful island and everything about Garden by the Sea was great. My husband usually prefers to stay at larger hotels/resorts but he loved Garden by the Sea and agreed that we should stay there again on our next trip!

Go to Garden Of The Sea
Go to St. John Villa Rental -- List of Vacation Rental Villas

In Harmony Retreat Reviews

Description of In Harmony Retreat from St. John Villa Rental -- Feast your eyes on a million-dollar view. The Caribbean in front of you, stretching beyond your imagination. Water rippling below you in every shade of blue, dotted with sailboats and world-class yachts. The brand-new In Harmony Retreat for two awaits you, ready to shelter you in the harmony that only the island of St. John can bring. Sit on one of your private balconies, bask in the dipping pool-spa, or relax in your air-conditioned villa. The choice is yours. Completed in July 2007, the In Harmony Retreat is a luxurious, brand-new one-bedroom villa on Seagrape Hill in Coral Bay, St. John. From this stunning hilltop, you can see from the town of Coral Bay, with its beckoning restaurants and bars, to the shores and mountains of the British Virgin Islands across the sea.



Stayed April 2011, traveled as a couple.
Let me start by saying that I have visited many islands in the past and St. John is the most beautiful I have been to and In Harmony Retreat is a gem in this tropical paradise. It has all the touches of home from cooling air conditioning, a relaxing pool, stereo with an iPod dock and many other essentials to make your stay comfortable. But because of its location, you have easy access to the best restaurants on the island, the less crowded beaches and the seclusion that will make 7 days here the most relaxing week of your entire life. My wife and I got engaged here . . . then we spent our honeymoon here and we will definitely be returning. Greg is the most accommodating host and will give you tips on where to go if it is your first trip to the island. I recommend going when there is a full moon and heading to Miss Lucy's for the full moon luau, eat lunch at the Tourist Trap (get the Boom Boom), grab a burger at Skinny Legs and get the pizza at Donkey Diner. If you are searching for that perfect place for a couples getaway . . . STOP . . . you just found it. You will enjoy stunning views, quiet privacy and perfection in paradise.

TopNotch In All Aspects!! Guest: Terry and Elizabeth (Middletown, NY)
Date of Stay: 07/04/11 -- Review Submitted: 07/13/11
We have had a wonderful, relaxing vacation at this delightful house! We have enjoyed being here as much any of our excursions-just a great place! The place is well stocked and enjoyed using the snorkeling gear amongst other useful items. It has been a lovely, private relaxing escape and we will go on line to recommend this lovely place highly! Thanks!

The Perfect Private Romantic Place for Two
Guest: Laura (Columbia, Maryland) -- Date of Stay: 03/29/11 Review Submitted: 04/24/11
We have vacationed on the beautiful island of St. John many times and have stayed at various locations. We found that Coral Bay is the best spot to be and a little more laid back, than the other busier side. This villa is in a great, quiet location on Seagrape Hill, just up a hill from the popular Skinny Legs restaurant/bar. You can get anywhere within 10-20 mins drive on the whole island anyway. There are plenty of bars, restaurants, shopping, great beaches and better snorkeling around that side as well. It is fun to just get in the rental jeep and explore the island. In Harmony Retreat was the perfect find for us and highly recommend it for couples that just want to relax, enjoy the island, and get away from it all. This was our second time back to this rental property. This one bedroom villa is so comfortable, stocked with everything you need, and the views are just to die for. It has nice breezes, unlike some of the other lower places we have stayed and is very private and romantic. The dipping pool can be heated and turned into a jacuzzi type pool if desired. Since St. John have some of the most beautiful beaches in the world, the smaller pool was all we needed. It was nice unwinding in after a day at the beach and at night, under the stars. We just loved the caribbean style 4 post bed and the house is stocked with great movies, books and cd's that we enjoyed. The kitchen was modern and perfect for nights we cooked in with an outdoor grill as well. We just enjoyed the magnificent views each morning and loved lounging about, taking in all in . The pictures just don't do it justice. This rental was more than we expected, had everything we needed and highly suggest it. We will hopefully be back again and again, the perfect place for two.

Go to In Harmony Retreat
Go to St. John Villa Rental -- List of Vacation Rental Villas

La Barracuda Guest House

Description of La Barracuda Guest House from St. John Villa Rental -- The guest house is in a secluded spot overlooking Hart Bay. It has a full bath and kitchen with microwave, stove, blender, toaster, AC, Stereo, TV w/ cable, queen size bed and a loft with two twins. The deck offers an outdoor BBQ and Hot tub, along with extraordinary sunsets. The guest house has been a perfect honeymoon retreat for many couples.



1. My wife and I stayed in the guest house at La Barracuda from March 11-18 (2011). It was our first time on St. John, and La Barracuda was a perfect base of operations for our adventures. Tucked away in the "Chocolate Hole" area just below Cruz Bay, La Barracuda's location high on a hill overlooking Hart Bay and Chocolate Hole provides wonderful views. You can hear the lulling surf of Hart Bay below, and from the guest house deck you can watch the lights come on over on St. Thomas. In fact, one of the things the description of the property undersells significantly is the view from the guest house. The house is just five minutes from the action in Cruz Bay, but it's far enough away to offer seclusion. Our primary purpose for going to St. John was to spend as much time as possible in the water snorkeling. Franklin was very helpful, offering us useful guide books and insider tips and descriptions of the beaches around the island. Likewise, the beach chairs there for guests to use came in handy. Our favorite snorkeling sites now include Waterlemon Cay, the longish swim from the northern-most part of Francis Bay out to the tip of Mary Point (lots of turtles), Little Lameshur Bay, Salt Pond Bay (lots of rays), and Hansen Bay (look for the octopi that camouflage themselves in the coral and rocks). Then again, if you're lucky you can come across a good-sized nurse shark hanging out in the shallows of Chocolate Hole. So just about any beach on the island could be great. Nothing on the island is that far away, so La Barracuda provides great access to any of your plans. And after a long day of snorkeling, what could be better than to come back to the guest house and soak in the hot tub on the deck and listen to the waves roll in below? The grill on the deck also served us well for casual meals. The house was clean and pretty well stocked (and Franklin was great about providing any utensils that we needed that weren't in the guest house). The kitchen worked well for our on-the-go needs. All in all, the description and photos give you a good representation of the property (though Franklin was in the middle of repainting the exterior when we were there, so it probably looks even better now). A few more photos of the view would more adequately show perspective guests what a find they've come across. I would (and have) recommend La Barracuda to family and friends who are interested in a St. John getaway—and who doesn't need a St. John getaway?

2. I've stayed here multiple times and it continues to be on of my favorite villas on the island. It offers just the right amount of privacy with its tiered bedrooms with private decks no mater what size group you stay with. Its has plenty of amenities and is a short drive from town and beaches. The owner was more than accommodating and available for any questions and concerns we had. I highly recommend La Barracuda to any and all who seek out a great st. john experience! Thanks Franklin!

3. I did not want to leave! La Barracuda is a vacation in itself. The Villa is connected and surrounded by decks & pathways that are bordered with the most lush and interesting flowering trees and plants. Iguanas, frogs and birds share the enjoyment of the grounds and add to the whimsical feeling of the property. The Villa rests up on a hillside so you have clear, amazing views all the way to St. Thomas. You can hear the waves crashing from Hart Bay below & when it rains on the metal roof at night - perfect! When I wasn't snorkeling and having the time of my life in the ocean, I was swimming in La Barracuda's pool, walking around the grounds just admiring the countless varieties of plantlife, or just sitting on the numerous decks mesmerized by the beauty of St. John. Don't forget your camera!

4. A small group of our friends took a trip to St. John and we wound up staying here. It really did make our trip go from fun to amazing. With a big wrap around deck, we woke up everyday to drink coffee looking out over the ocean and other islands, and spent the nights with a cocktail, grilling out looking at the stars. And with the pool and hot tubs, a lazy day at home even felt justifiable. This was the perfect vacation house for us and I can't wait to do it again next year!!

Go to La Barracuda Guest House
Go to St. John Villa Rental -- List of Vacation Rental Villas

Meritage Cottage Reviews

Description of Meritage Cottage from St. John Villa Rental -- Meritage Cottage is a charming one bedroom hideaway perfect for romantic interludes. Tucked on the hillside of Chocolate Hole, it offers panoramic views down island, nearby Hart Bay and spectacular sunsets. A 5 minute walk down a winding path takes you to a private beach perfect for snorkeling, sunbathing or beachcombing. Air-conditioned king size bedroom, fully-equipped kitchen, bbq and private jacuzzi on deck. Comfortably accommodates 2 people. From sun bathing (clothing optional) to star gazing, Meritage is the perfect spot for either.



Regan Brown -- upstate NY
This cottage stay exceeded our expectations! The home is comfortable, tasteful, wonderfully located and had everything we could possibly need. St. John is a beautiful, peaceful island, and returning each day after our adventures to this little charming love nest made this past week the absolute best for us! We couldn't have asked for or enjoyed a better place to stay.

Robyn & Tom -- MA
Tom and I are back to reality today, and I'm already homesick for the island!! Thanks so much for all your assistance, and everything worked out perfectly with the jeep rental. Gus is a real find!! What a nice man, and he was so helpful in making our stay comfortable and enjoyable (loved the beach chairs!). The cottage was an absolute oasis—like waking up in a tree house every morning! We particularly loved coming back after a day of exploring, snorkeling and beaching for a soak in the hot tub with a nice cocktail before heading into town for dinner! One morning we walked down to Hart Bay and found FABULOUS shells and all types of coral. All in all, another fabulous and relaxing time on St. John! Many thanks for being a big part of it with your charming Meritage Cottage!!

Thomas B. Altstiel -- Wisconsin
Just returned from a lovely week at the Meritage Cottage. Unlike some other locations, in this case, pictures don't lie. In fact, it looks even better in person. The views are great any time of day but watching the sun set over St. Thomas, while sitting in our private jacuzzi became a special nightly treat. Gus, the caretaker was great--met us at the ferry dock, helped us set up and gave us some great recommendations for restaurants and activities. The cottage was very comfortable, clean and well appointed. Although it was just one room and a bath, it was laid out nicely with more than enough space for the two of us. The owner was very helpful and helped make our stay very enjoyable. You will need a car but you're only a few minutes from Cruz Bay. Access to Hart Bay takes a little hiking through the jungle--you need to be sure-footed. Cable TV and Internet access were fine most of the time. The gas grille was great when we wanted to eat in. The jacuzzi was a wonderful bonus! Although it's next door to the main house, the cottage offers all the privacy you could ask for. I highly recommend this property!

Mark Dunsmore -- IA
My husband and I stayed at the Meritage Cottage to celebrate our 30th wedding anniversary. It was a wonderful place to spend ten days! We were met at the ferry by the manager, Gus, who brought us to the cottage. Gus came whenever we called with a question--he was great! The cottage has everything you need, was very clean, and was very well maintained.. We especially enjoyed the beautiful views from the deck and the hot tub (which we used as a cool tub since it was summer) every day. Gus also gave us recommendations for activities and restaurants. We spent a half day sailing/snorkeling and a full day kayaking/snorkeling. Both of these day trips were wonderful. We highly recommend St. John and Meritage Cottage!!

NY
My husband and I have just spent a glorious week on the Island of St. John. Meritage COttage was the icing on the cake!. We could not have been happier with our choice of accommodation. We were met at the ferry dock by Gus, the manager, taken to pick up our jeep and out sipping a cocktail on the deck, overlooking the Caribbean Sea, within 20 minutes. The cottage is actually nicer than the photos on the website look which was a pleasant surprise as we have not always been lucky on other vacations. Gus was very helpful on all our questions regarding the restaurants, nightlife, and special places to visit while we were there. I would highly recommend this place to anyone looking for a special place to spend their vacation on St. John as we definitely will come back to stay at Meritage in the future.

Go to Meritage Cottage
Go to St. John Villa Rental -- List of Vacation Rental Villas

Papaya Moon Reviews

Description of Papaya Moon from St. John Villa Rental -- "Papaya Moon" is an extremely private one bedroom property featuring one of St. John's most glorious views. High on a hillside overlooking Coral Bay, the expansive views extend to the British Virgin Islands, the Sir Francis Drake Channel, and both the Atlantic Ocean and Caribbean Sea. If you are looking for one of the most private villas on St. John, "Papaya Moon" deserves your careful consideration. With easy access to the north shore beaches, Coral Bay restaurants and bars, phenomenal views, and a full list of guest amenities, this special Upper Carolina property provides its guests with a vacation full of peace and tranquility.



Dear Ron and Sue, Thank you for sharing your beautiful home with us! We arrived on Sunday, were married at Hawksnest on Monday and enjoyed the rest of our honeymoon here. Definitely our favorite restaurant was Miss Lucy's and we met lots of people hanging out at Skinny's. The views from Papaya Moon are just fabulous- we love the hot tub! Three words all week- "Wow, Amazing, and Gorgeous" every time we drove over a hill to a new view. Best snorkeling, Watermelon Cay- absolutely breathtaking. We'll call for our next visit, which we are already planning.
Thanks again-
Brenda and Terry, Vienna, VA

Ron and Sue - Thank you for sharing your home with us. The views from Papaya Moon are the best of any on the island. Your end of the road setting with the 180'+ views is perfect. We had a great time exploring St. John. Highlights included our day renting the dingy and snorkeling. Hurricane hole and surrounding bays….our hike from Lamseshur trail to the Reef Bay trail and back….doing all 3 puzzles in Papaya Moon…snorkeling at Watermelon Cay…BLAST to Jost Van Dyke for a day (great snorkeling and cold beer)…..and the highlight was Uncle Joes BBQ- YUM! Coral Bay has everything we needed including awesome burgers at Skinnylegs and great tshirts at Jolly Dog. We felt like we were home in Montana weaving through cows, donkeys, and goats on the roads! We ate at Chateaux Bordeaux and thought it was ok but they definitely serve on "Island time." If you're ever in Montana's Glacier country look us up! Thank you for a very comfortable stay!
Frank and Kelly

Good Morning - Beautiful views, great snorkeling, cute little hummingbirds
Good Afternoon - Hiking! We liked Ram's Head the best!
Good Evening - Star Gazing…Shipwreck Landing
Thank You
Ron and Ann, St. Charles, MO

Dear Sue and Ron - Thank you for sharing your beautiful place with us. This is our third time staying on St. John and this is the nicest place we've stayed. We lived in the pool (and left some bath tub toys for the next "kids"). There was no moon the first several nights, and the stars were awe-inspiring. We tried Voyages for dinner- food was good but lacked the ambience of Chateau Bordeaux. For a quick lunch in Cruz Bay, get a pate' at Comfer's, the little stand across from the Texaco. The best smoothies are at our Market by the Post Offices. The owner is such a pleasant person. If you ever have computer problems, best tech in the Lumberyard is the place to go. Simmon was very helpful. We liked Lameshur as the best beach. We had it to ourselves until mid-afternoon. It was an interesting 4WD ride too. Our last morning, we got some gorgeous sunshine pictures. The most extraordinary thing about the place is the views and the decking on which to enjoy them. Next winter is tied up with school, but we want to come back after that. We definitely are saving your phone number.
Chuck and Judy, Champlin, Minnesota

Hi there, This is a most enchanting place. We both love Papaya Moon; we can only imagine what it'll look like when the project is complete. The view- any hour of the day is outrageous. Standing in the corner of the deck is awesome. We had a hawk fly right by at eye level. Adorable little hummingbirds are everywhere. Love all the plants around. The hot tub and pool are just perfect. It's the shade provided by the second level deck- a great place to escape the harsh mid-day sun. We had fantastic food while here. In addition to cooking in, we also thoroughly enjoyed: Lime Inn (great gift shop too), 2020's- just excellent, Chateau Bordeaux- great for last night here, Uncle Joe's BBQ- a delicious messy dinner, Skinny Legs- small menu but very good burgers, great salads, and fish. Snorkeling- Watermelon Cay- the best, good walk. Francis Bay for a quickie. Lameshur Bay decent snorkeling too. Drive to the end. We hate to leave today. What a fine escape and so very romantic. Hope to be back.
Shannon and Rob, Hertford, NH

Go to Papaya Moon
Go to St. John Villa Rental -- List of Vacation Rental Villas

Sea Cottage Reviews

Description of Sea Cottage from St. John Villa Rental -- Perched high above the Carolina Valley in the heart of the Bordeaux forest is a charming and romantic cottage overlooking the turquoise Caribbean waters of the Sir Francis Drake channel - a private paradise. Imagine admiring a moonrise or a sunrise with the one you love…A 1 Bedroom, 1 Bath (Sleeps 2) is just a 10 minute drive to the world famous North Shore beaches and less than 15 minutes from the shops and restaurants of beautiful Coral Bay or the ferry dock at Cruz Bay, the cottage can be reached by way of the paved and level Bordeaux Mt. Road which winds through the lush and fragrant bay rum forest.



Sea Cottage was the perfect choice for our honeymoon serving as an ideal home base for exploring the island, but also a destination in and of itself. The views of Coral Bay while being nestled in the trees was such a unique and memorable experience. Some mornings it was hard to leave the front deck! The location was perfect for allowing us to explore the north and south beaches, Coral Bay, and Cruz Bay. We absolutely loved the outdoor shower! Being tucked away in the woods was so peaceful and serene, and the nights were quiet, cool, and comfortable with the windows open. We would highly recommend the Sea Cottage to any couple looking for a beautiful and private cottage with amazing views. We loved our entire time on St. John and are already talking about our next trip and we will surely stay at the Sea Cottage again.
Amanda -- Durham, NC, 04/2012

The moment my wife and I saw the cottage, there was never a doubt that we would have a relaxing and romantic week ahead of us. In most instances, the actual rental appearance never quite measures up to the listing photos that are viewed on the website. Sea Cottage is the exception! The sunrise views of Coral Bay and beyond were spectacular with the morning mist rising from the surrounding mountains. Every amenity of the cottage was a delight; the bed was very comfortable, the outdoor shower was heavenly, the view from the balcony no matter what time of day or night was grand, the cottage itself was clean, neat and tastefully decorated with local, handcrafted art, every appliance from the smell of the coffee pot brewing in the morning to the soothing music provided from the iPod helped create an ambience of relaxation and peace. Even the road winding through the mountains leading to the cottage, provided a sense of adventure and excitement. Although Sea Cottage is located high on the mountain, we actually walked from the cottage down the Bordeaux Mountain Trail to Lameshur Bay to snorkel, a roundtrip of about 5 miles. There is absolutely nothing to say that would be a drawback, especially if you are looking for a place that is very private, romantic and peaceful. Bottom line: When revisiting St. John for another vacation, I will not be researching the internet for a different accommodation. We are already looking forward to another week at the Sea Cottage and exploring more of what St. John has to offer.
David -- Seymour, Indiana, 03/2012

We thoroughly enjoyed our stay at Sea Cottage. It is very private and secluded. We had no problem with insects and ate our meals on the veranda with a gorgeous view of Coral Bay and beyond. The cottage is clean and new. Good selection of DVDs on hand. The outdoor shower was a favorite. We recommend Sea Cottage wholeheartedly.
Heather -- Charlottesville, VA, 02/2012

The Sea Cottage was a perfect getaway for two! This is an extremely private, brand-new home with spectacular views of the sea. The cottage was clean and as-advertised. The cottage has beautiful landscaping from the road down to the home. The forest surrounds the porch side of the cottage, and we really enjoyed listening to the birds (who are very friendly and will sit on the railing to look at you!) and the sound of the breeze in the trees. We did not have any problems with insects despite being so close to the forest. The breeze was certainly steady enough to keep the house cool. If we are able to return to St. John in the future, we will not hesitate to rent the Sea Cottage!
Heather -- Greensboro, NC, 02/2012

Go to Sea Cottage
Go to St. John Villa Rental -- List of Vacation Rental Villas

Star Villas Reviews

Description of Star Villas from St. John Villa Rental -- Star Villas is a group of 9 separate villa rentals in the Frank Bay section of St. John, just outside of Cruz Bay. 1-Bedroom properties include: Star View, Frangipani, Papaya I, Star of The Sea, Sugarbird, and Evening Star (studio). 2-Bedroom properties include: Star Villa (with pool), Papaya II, Sky Top. Easy walk to Cruz Bay for shops, bars, restaurants, activities. Enjoy spectacular sunsets right on the beach at nearby Frank Bay.



"I can't say enough good things about the attentiveness of Bob and Marlene, the wonderful condition of the accommodations."

"Just back from a week at Star Villa...the villa was absolutely gorgeous..."

"We never expected it to be so amazing."

"The best value on St John."

Go to Star Villas
Go to St. John Villa Rental -- List of Vacation Rental Villas

String of Pearls Reviews

Description of String of Pearls from St. John Villa Rental -- Just steps away from the world-class Westin resort and a few minutes from dining and shopping in Cruz Bay, this waterfront pearl is the perfect hideaway for a couple. String of Pearls can be seen at the far right of this photo, right on the water. A brand-new cottage in the elegant Great Cruz Bay neighborhood, it has a French tile roof, cut coral floors, and custom maple and mahogany cabinetry. The house is fully air-conditioned, with a well-equipped kitchen, stereo, cable TV, and king-sized bed.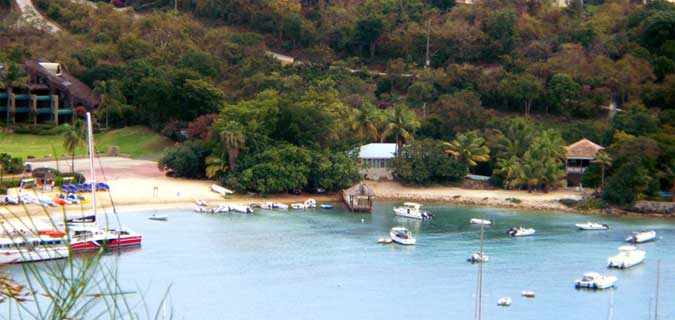 "My wife and I recently stayed at String of Pearls for 10 days. This is a great vacation home with the perfect location. The owner has outfitted the home with everything and every amenity you'll need to relax and enjoy this beautiful island. With the upscale finishings and private location, spa, deck and patio directly on the water in Great Cruz Bay, you won't want to leave. The Westin St. John Resort is right next door. The home is an easy walk or short 3 minute taxi ride to downtown Cruz Bay and all the local waterfront bars and restaurants. Don't pass up the locals at Woody's streetside bar or Johnny's BBQ. The local beaches on the Northshore are spectacular world-class spots. The owner of the home (BJ Harris) is super friendly and laid back, she made us feel right at home, just ask her for anything you need or want to know! This wonderful villa vacation was the best spot in the Virgin Islands."
- Tom & Mary Lou, Ohio

"We had a great time in St. John ! The food was wonderful, the weather delightful and the scenery gorgeous but the best part of our trip was our accommodations. The String of Pearls was so charming and the location the absolute best! Alec and BJ took care of everything and made us feel so special. I have recommended the String of Pearls to all my friends. We will definitely be returning to St. John in the near future."
- Arlene and Bob, Georgia

Go to String of Pearls
Go to St. John Villa Rental -- List of Vacation Rental Villas

Tradewinds Cottage Reviews

Description of Tradewinds Cottage from St. John Villa Rental -- "Tradewinds" is a two-bedroom, two bath cottage perched high above John's Folly Bay in the quiet Concordia area of St. John, US Virgin Islands. Designed for a couple, honeymooners, or a small family, this charming wood cottage features light, airy rooms with stunning ocean views throughout. The floor plan features a large, light-filled livingroom/eating area/kitchen, one bedroom, and one bathroom on the upper floor. Downstairs, reached by an outdoor stairway, is the second bedroom and bathroom, with a separate balcony overlooking the ocean. There is also fold-out sleep sofa if needed in the livingroom.



Spectacular. We loved this place! My husband and I went for a relaxing vacation and this was just the place. The views were spectacular, the cottage was immaculate, and everything we needed was at hand. The CD collection was amazing, providing a variety of genres, the kitchen was well equipped, and for the beach there were towels, beach chairs, snorkel and fins, picnic baskets, water bottles, etc.
At the cottage we found information about which trails to hike, beaches to explore, where the best snorkeling can be found, restaurants to pursue, stores to shop, stars to name, boats to sail, and excursions to join.
Lois checked in with us twice during the week; if there was anything we needed, she was there. Their friend and house cleaner was also available for questions, but the best was that she is also a massage therapist and acupuncturist. I fully intended to take advantage, but the week went so fast, that we didn't have time.
Ah, yes. We left saying that one week was surely not long enough. I guess we'll have to return to get that massage, experience the beaches and trails that we didn't have time to get to, eat at those restaurants that the good folks in St. John told us not to miss, and next time we're bringing back a few bottles of coconut rum!
- Lorna and John

Beyond Memorable. If you are into privacy and relaxing in a spectacular ocean view setting made more lovely with high wooden ceilings, hard wood floors, and white-washed walls decorated with a fun and tasteful eye...If you'd love the convenience of having your own kitchen and stretching out on a porch overlooking a span of ocean... then this is a can't miss destination!
Tradewinds Cottage was absolutely breathtaking with views of Tortola and the British Virgin Islands from every room...even the shower! And while we were happy to conserve water, I can't tell you how sensational it was to shower in the evenings with the breeze coming off the water and the lights from the islands twinkling in the distance. Even from our cozy bed (complete with netting), we could experience that same view as the ocean breeze and sounds lulled us to sleep. In the AM, we'd witness the sunrise and then lazily fall back to sleep.
The experience we had here was beyond memorable... especially with so many great beaches nearby! We snorkeled with angel fish nibbling out of our hands while Pelicans flew just a few feet away. We shopped, dined and leisurely roamed the island passing donkey, deer, and goats to name a few! This is the type of experience you dream about!
- Lisa and Steve , Florida -- We're going back!

On my last day there I couldn't bear to leave. The only way I could stand it was too book again for the next year!. Tradewinds was just perfect. We spent a lot of time on the front deck surrounded by lush tropical plants and watched the tiny bright yellow bananaquits feed from sugar water we provided.
The house and views were exactly as I had pictured they would be. Spectacular views from all over the island and super snorkeling. It just could not have been more relaxing. Just what a vacation should be! I can't wait to return!
- Denise & David, Hanson, MA

Our visit to St. John was even better thanks to finding Tradewinds Cottage, where we stayed March 13-27. The view is spectacular, the location was perfect for us, and the house just feels like home from the moment you arrive. Every amenity you could need has been provided (beach chairs, coolers, towels, extra blankets and pillows, kitchen supplies, etc). Every morning, I opened my eyes to see the start of a beautiful sunrise, and I couldn't resist getting up to enjoy the full show on the deck. Coupled with the sound of the ocean, I truly can't imagine a more wonderful spot. Salt Pond Beach was one of our favorites, and the proximity to the cottage was just a bonus. We also liked several North Shore beaches, with Francis and Jumbie being our favorites.The Coral Bay side of the island really suited us, too. We only went into Cruz Bay twice during our two week stay: once for a powerboat tour, and again for a dinghy rental. The people and restaurants in Coral Bay were fantastic. Our favorite restaurants were The Tourist Trap (loved everything there and it is an easy walk from the cottage), Miss Lucy's, Skinny Legs, Cafe Concordia and Aqua Bistro. Overall, an amazing trip and the most relaxed I've ever been in my life. Would highly recommend staying at Tradewinds!
- Colleen & Ken Neidert, Toledo, OH

We stayed at the Tradewinds Cottage from March 27-April 3. Love, love, loved it! Clean, breezy, comfortable, beautiful views, it was the perfect getaway. We loved coming home to it every evening. The music collection helped to set the mood. We highly recommend it as a place to relax and from which to launch your daily St. John adventures. Our daughter did a lot of hiking so we tended to stay on the east side of the island which of course was not a problem with all the beaches so easily accessible. Your recommendation of Waterlemon Bay was awesome and yes it was worth the walk. Snorkeled and it was the best day (of course our last) to see so many creatures not seen before. Again Thanks for the home away from home for the week!!
- Jerry, Sandy & Heidi Wagner, Defiance, Ohio

Go to Tradewinds Cottage
Go to St. John Villa Rental -- List of Vacation Rental Villas

Tranquility

Description of Tranquility from St. John Villa Rental -- Tranquility is a perfect place to enjoy the serenity of St. John in a pristine little villa loaded with charm and creature comforts. A truly unique island experience awaits visitors wishing to relax in a natural and beautiful setting where care and sensitivity to the environment have made Tranquility a special retreat for the eye and soul. Situated all by itself on a little knoll in Fish Bay overlooking the Bay, its recently refurnished interior reflects the best of Caribbean simplicity in taste and design with a full kitchen, lovely dining area, cozy den, bedroom suite and a large bathroom.



Janet and Andy – As if "Tranquility" were not enough – as if the exquisite views were not enough – as if the ambiance of being in a forest preserve was not enough – your art work, Janet, was the topping on the cake! For a third honeymoon – this was all perfection.
Coni & John - Wash. DC – Mar – April 2011

We have loved our hideaway holiday, from each hazy dawn to every sleepy dusk. Tranquility describes itself perfectly. It gave us peace to go back to our childhoods and marvel at creation…thank you!
Paul & Sue - Sheffield, UK

These were eleven of the most perfect days that we have ever experienced…This was our honeymoon and reunion all at the same time. Needless to say, we had high expectations, and the trip far exceeded those expectations. Tranquility was the perfect home for us, we loved everything about it. Perfect house, perfect location, perfect hosts, perfect everything…We want to tell everyone about this place, but we also want to keep it a secret. It's that good.
Beau & Rachel - Minneapolis, MN

Dear Janet and Andy – Our experience at this house exceeded our expectations in every way. The crib for our son, the beach toys... checking in on us without bothering us... you guys really know what you are doing. This cottage was perfect for our small family and it and you truly made our trip exceptional... all the best.
Jeff & Anna, Raleigh, NC – Feb. 2011

Thank you, Andy and Janet – what a magical place! We could not have chosen a more beautiful & perfect spot for our honeymoon! You both were so wonderful and helped make this the best week of our lives! Can't wait to come back!
Cyrus & Silvia – NYC – March 2011

Janet & Andy – Staying at Tranquility here on St. John has been a great way to celebrate our anniversary. Your villa is so restful and homey – we love the architecture, the colors and your artwork. We had a great time snorkeling at Waterlemon Cay and visiting the beaches, especially the little adventure down the path to the rugged Reef Bay. Weather has been perfect the whole time we were here. Thank you for greeting us that first night as we got waylaid by flight issues and having some sustenance to get us through to morning was a blessing.
Kathy & Tom, Cleveland OH – Feb. 2011

Tranquility Cottage is wonderfully named, a quiet haven for stargazing, reading and lots of relaxation overlooking lovely Fish Bay. We thoroughly enjoyed our time here, the perfect base for exploring the island by foot and water...
Kathy & Steve – St. Paul, MN – March 2011

Go to Tranquility
Go to St. John Villa Rental -- List of Vacation Rental Villas

Windcrest Garden and Windcrest Loft Suites Reviews

Description of Windcrest from St. John Villa Rental -- Windcrest's stunning panoramic view will blow you away. These romantic getaways offer all the comforts and amenities of home on the island paradise of St. John. Nestled in a quiet corner, Windcrest is ideally located above the south shore and Westin Resort, providing island serenity a short drive from quaint Cruz Bay and all its fine restaurants and shopping, the famous National Park beaches, and the many hiking trails of St. John. You can rent either the Loft Suite (with hot tub) or the Garden Suite. Each has 1 bedroom and 1 bath, with shared pool.



We stayed for the first time in March of 04 and can't wait to go back, res. already made for Feb 05. We wanted for nothing,and those nights!!! Oh those Caribbean nights, with breezes coming in over our loft bedroom, waking to a view that took our breath away. Went to lots of beaches, great snorkling-saw a sea turtle! Perfect.
From the Windcrest Guestbook

Windcrest is a beautiful property. The location is very convenient to beaches, shopping and dining. You will need a car/jeep for the island. The area where the villa is located is very quiet and the views are just plain SPECTACULAR!! Highly recommend Windcrest Villa.
From the Windcrest Guestbook

Windcrest Villa was exactly what we were looking for! It was the perfect place to go "home" to after beaching or bumming around all day. Being able to have our morning, and end of the day, cup of coffee sitting on the deck, enjoying the amazing view will be in our minds forever! Windcrest had everything we needed...and even things we didn't think of. Deborah was very helpful with information for us, and it was great doing business with Vicky. We will definitly be going back! We will miss Cubbie too!! Thank you Vicky!
From the Windcrest Guestbook

Go to Windcrest Garden Suite
Go to Windcrest Loft Suite
Go to St. John Villa Rental -- List of Vacation Rental Villas

=============================================================