Reviews of 2-Bedroom St. John Villas

Reviews include Caneel Trailside Cottage, Caribbean Blue Skies, Castle St. John, Chez Shell, Coral Breeze, Horizons Cottage, Hummingbird's Seacret, Kamabesu, Moonswept, Mystic Ridge, Perelandra, Sea Turtle Villa, SeaCruz, SeaScape, Star Villas, Starlit Escape, Tequila Sunrise, The Retreat, Tradewinds Cottage, Villa IntimaSea, Villa Tamarindo, Villa Madeline, Waterklip, Windcrest Villa, Wings Over Water

(Included on this page are villas from N-Z alphabetically.)

Following are reviews of some of the St. John vacation rental villas that are listed on www.stjohnvillarental.com. Note: As we receive St. John villa reviews, we will post them here.

If you have a review you would like to submit, please send to stjohncaptain@aol.com. Include villa name and date of trip. Include your first name(s) if you wish.

Perelandra Reviews

Description of Perelandra from St. John Villa Rental -- Private 2BR/2BA Villa with Spectacular Views. Location: Cruz Bay, USVI - St. John, Caribbean (Only minutes away from Town & National Park Beaches). 2 Bedrooms - 2 Baths - (Sleeps 2-4). Upstairs or down, inside or out, the views, privacy, comfort, and romantic ambiance of this intimate, elegant villa will delight you.



M+P -- Review Submitted March 6, 2012 -- Date of Stay February 25, 2012
What a wonderful villa! We stayed in late February/early March for a second honeymoon and could not have asked for a nicer property. The villa is only a five-minute drive to town but felt like a secluded hideaway. The property is well maintained. The pool with its lush landscaping is beautiful and private. The Weber grill, the sleek outdoor furniture and the screened-in porch make for a lovely outdoor living area. The million-dollar view of Cruz Bay and St. Thomas runs everything right up to "Spectacular!" You will not be disappointed. Perelandra has an open floor plan and feels spacious. The villa is very private—so much so that there are no interior window coverings. The furniture is comfortable. There is a television in the living room and in the downstairs bedroom. The kitchen is a small galley-style kitchen that opens to the living area. It is well stocked with everything one might need. The bathrooms have large, lovely showers. The master bathroom is one of the best-stocked bathrooms I have ever seen in a rental property. There is a curling iron, a hair dryer (with a diffuser!), hair shampoo, hair conditioner, soap, sun block, tissue paper, toilet paper and more. Both bathrooms have good lighting. Perelandra has two bedrooms. The master bedroom upstairs is light and airy with a vaulted ceiling, two windows and a sliding glass door leading to the upper deck. The downstairs bedroom has a high window above the beds, a sliding glass door leading to the lower deck and its own full bathroom. Kids, in particular, will enjoy the circular staircase leading to the bedroom. Another reviewer said that the downstairs bedroom smells musty. I did not find that to be the case when we were there. The owners have installed new air conditioners in the bedrooms. Every villa/hotel should have these air conditioners! They are quiet, cool the room down quickly and keep it cool. Amazing! Another reviewer mentioned that the living room could get hot. We found that to be the case the first night we were there. Then we discovered that if we closed the wooden shutters on the two west-facing windows during the late afternoon (when the sun beams in) the room stayed a pleasant temperature. We had a wonderful stay in this villa and would recommend the villa to others. We truly didn't feel like we were in a rental property—instead, we felt like we had popped into a friend's house for a lovely weeklong visit. We will be back!

Stuart -- Cherry Hill, NJ -- Review Submitted February 6, 2012 -- Date of Stay January 28, 2012
We visited PERELANDRA in late January/early February, 2012. Very comfortable and spacious (for two couples) home overlooking Cruz Bay. Great location for conveniently getting to town, the north shore beaches and even the East End. Restaurants are very good in St John, but best to cook your own and eat breakfast and dinner while enjoying the view from the upper deck. House was in very good condition, having just been renovated, but for one or two things that needed tweaking (e.g. the refrigerator needed to be adjusted) the rental agent was most responsive. I would recommend a stay at PERELANDRA

Sydney -- Lynnfield, MA -- Review Submitted March 26, 2011 -- Date of Stay March 12, 2011
We just spent 8 days at Perelandra and were very sorry to leave. The house is very well designed and looks even better in person than the pictures. The view from the decks is really just spectacular. It was wonderful to sit out in the deck in the morning for breakfast, and for cocktails at night - watching the sunset and then the lights come out on St. Thomas. The house was very convenient to Cruz Bay and its great restaurants, the grocery store, and just a 10-15 minute ride to most of the North Shore beaches. There were 4 of us and there was plenty of space with the bedrooms on different levels and two levels of decks to enjoy. Linda was also very responsive to questions we had and gave us a call during our visit to make sure everything was OK - the management company was also great, and answered any questions we had promptly. Everything was handled very professionally and we felt very well taken care of. It's a great place to stay and we would highly recommend it!

M. Kennedy -- NY -- Review Submitted March 8, 2011 -- Date of Stay February 4, 2011
We had a wonderful anniversary trip to St John's staying at Perelandra. Everything was perfect and more amazing than we expected. We really enjoyed drinking cocktails and watching sunsets on the deck and visiting the national seashore beaches. I highly recommend staying here and we are hoping to come back soon!

Molli -- Denver, CO, USA -- Review Submitted May 10, 2011 -- Date of Stay April 30, 2011
Perelandra was just want we wanted - very private, with a pool, and an awesome view of Cruz Bay. There are 2 bedrooms, but we only used the upstairs one. (The downstairs one was almost identical, with its own full bathroom.) The bed was comfy and both bedrooms have an A/C unit which kept it plenty cold. The only reason I didn't choose "Excellent" for "Sleep Quality" was because the bugs and birds at night are very loud. :) You could see that as charming or annoying - but it's just part of the island experience! The location of the villa is perfect - far enough away from the main road to be quiet and private, up on the hillside with a GREAT view, and still within a 5 minute drive of main Cruz Bay, and within 15 minute drive of the north shore beaches. We loved the full kitchen and BBQ grill - we ate most of our meals right in the villa. Perelandra also has satellite TV, wireless internet access, plenty of island guidebooks to help you out, and all the beach items you'll need - chairs, towels, coolers, umbrella, etc. The property owners were fantastic to work with - very responsive and knowledgeable, and even called us while we were there to make sure things were going well. And the local property management company (Cimmaron St. John) took excellent care of us - met us at the ferry, showed us to the car rental agency, pointed out all the major things we'd need (grocery story, market, etc), and responded to all our questions and needs throughout our stay.

Go to Perelandra
Go to St. John Villa Rental -- List of Vacation Rental Villas

Sea Turtle Villa Reviews

Description of Sea Turtle Villa from St. John Villa Rental -- SEA TURTLE VILLA...is a beautifully appointed contemporary West Indian styled vacation rental villa. The villa rests on the beautiful "Skytop" mountain in the Fish Bay area of St. John. This vacation home offers a truly beautiful setting for a Virgin Island vacation, honeymoon or anniversary. SEA TURTLE VILLA...is a vacation rental villa that has been designed to be suitable lodging for a single couple as it is for two couples; and yet will also comfortably accommodate eight guests. This beautiful St. John vacation villa will make you feel you have the US Virgin Islands all to yourselves.



This was our second stay at Sea Turtle Villa. We had ventured to Sea Turtle last year sharing the home with another couple, very dear friends of ours, and returned to Sea Turtle this year over Christmas and New Year's Eve. We first chose Sea Turtle after perusing many options. We thought the listing photo's accurately reflected the beautiful accommodations only to find that our expectations were far exceeded upon our arrival. Another option is to view the video of the home on the web site. I used this option as I bragged to my team at work about the affordable luxury of Sea Turtle. Sea Turtle has every amenity, cable t.v. if you have time to watch any! wireless internet service, and a full service kitchen, and home. Just grab some groceries and settle in for a most relaxing time! The home is meticulously maintained from the pristine cleanliness of the interior and exterior to the pool and landscaping. The privacy of Sea Turtle is exceptional. You will only know there are neighbors nearby if you pass them on the road up/down. We have only shared the home with adult friends and our adult children but find that Sea Turtle would be most comfortable for anyone who may have younger children as well. The owners, Rich & Cherry, are the best virtual island guides and are available 24/7 as is the property manager there on the island. Take a map and visit every spot you can! There is not a bad snorkeling spot on the island! The locals in the shops, restaurants, and on excursions make you feel like family and they have known you forever! Our best times were spent grabbing some groceries and having family dinners at Sea Turtle watching the sunset and again in the morning watching the sunrise (in your p.j.'s over a hot cup of coffee made fresh in the Sea Turtle kitchen. If you are looking for a relaxing retreat from the hustle and bustle of your mainland home I can assure you that you will not be disappointed. Fly in to St. Thomas, hop in your St. John approved rental jeep, stop at St. Thomas' Cost-U-Less for some groceries (or wait until you get to the St. John market, catch the ferry/barge at Red Hook, travel 15 minutes by water, meet the property manager, drive up to Sea Turtle, have lots of fun and relax.

Go to Sea Turtle Villa
Go to St. John Villa Rental -- List of Vacation Rental Villas

SeaCruz Reviews

Description of SeaCruz from St. John Villa Rental -- Overlooking the incredible Caribbean Sea and within a mile of Cruz Bay, SeaCruz has a secluded and unparalleled view. By day, sunset, or night the 180 degree vista of St. Thomas and the Sir Frances Drake Passage, with its rich history of pirates and treasure, is amazing, inspiring and romantic.



01/03/12
We have been to many different and lovely places around the world,but SeaCruz on St. John Island is the best of all. Often we would see beautiful ships flowing gracefully in the water just below us. Very amazing, also, were the gorgeous sunsets each evening and the twinkling lights from St. Thomas after nightfall. Our time in the wonderful accommodations made our stay very comfortable and relaxing. Always we shall remember our week on St. John and the beautiful accommodations at SEACRUZ.

Go to SeaCruz
Go to St. John Villa Rental -- List of Vacation Rental Villas

SeaScape Reviews

Description of SeaScape from St. John Villa Rental -- SeaScape is a private retreat carefully designed by the architect to compliment the tropical environment and offer full appreciation of the views of Chocolate Hole. This island home is comprised of two separate structures connected by a system of spacious decks ensuring complete privacy for you and your companions. The main house features the living room with cable TV, DVD, plus the dining area, fully appointed kitchen, wet bar, powder room and master bedroom. And wireless internet is available throughout the property.



Date of Stay May 2, 2012
Location: One of the best we have enjoyed in our many visits to St. John. The view was spectacular with gorgeous sunsets and the lights of St. Thomas coming on in the evening. The house itself it was accessible and convenient; only minutes from Cruz Bay. The road from the main road up to the house (Chocolate East) was an easy grade and paved all the way. Parking at the house couldn't have been easier. There is a new market nearby which made provisioning stress-free. A 15 minute drive brought us to the north shore beaches and a 25 minute drive to the East End. The house: First, the deck went on for miles with plenty of seating and chaises. There were three different deck dining areas in addition to the pool deck. This was the best equipped house we have ever rented anywhere. Even a professional chef would appreciate all of those can't-live-without gadgets. This house is not new. Don't expect it to be a state of the art house like you may live in at home. When I commented to the house manager that a new mattress was needed (when he came by to fix a TV glitch), he called me later that day and told me that a new mattress would be delivered the following day. How's that for service!! The bedroom was huge and air-conditioned with a walk-in closet and safe. The master bathroom - well, the shower had a glass roof above it, so it was almost like showering outside plus a large vanity and huge mirror. The pool: Just look at the photos and it's even more beautiful. We spent most of our days floating in the pool and star-gazing at night in the hot tub. Bill and Jan couldn't have been nicer. Bill called me at the house after the new mattress was delivered to make sure we were happy and Dave, the house manager, was responsive and accommodating. Thank you for sharing your wonderful house Bill and Jan, and for your personal kindness and consideration. We hope to be back again and again.

Date of Stay April 9, 2012
We stayed at Seascape in early April and had a wonderful time. It was in very nice shape and clean. The house is in a very good location to get to the grocery store, Cruz Bay, or many great restaurants. But, the biggest selling point for the house is the view from the huge deck. It is a deck that spans from the pool area to the parking area. It has 5 different sitting areas that overlook the ocean and the great landscaping. How relaxing to sit out there and have breakfast or coffee or a drink in the evening. Great place!

Date of Stay February 23, 2012
Sea Scape is a wonderful island get-away . The location was perfect, just out of town , but seemed like you were at a tropical treehouse. Pool was wonderful and big enough to do laps in, perfectly maintained with a bonus of a hot tub . The main house is comfortably furnished but we never really spent any time indoors . The decks surrounding the house and guest cottage were our living area . Such wonderful views of St Thomas and the ocean . Very quiet and private with the only sound being the waves below . Kitchen was great to cook in and fully supplied with all kinds of cooking ware. Clean and well maintained with everything we needed. The north shore beaches are our favorite but the east end great for hiking . I would recommend a stay at Sea Scape.

Date of Stay February 12, 2012
We expected a warm leisurely week on St John, with enough time to do many things we have not had time to do when we visited there for day trips. What we discovered was that Seascape was a wonderful base for our two couples to experience what St John had to offer as well as being a home away from home so that we could enjoy the full day. We thought that the pool and hot tub would be nice, but that we would use them very little. What we found was that the pool provided outstanding low impact exercise in the morning and a cooling off opportunity in the afternoon. The beaches and north side hiking trails are just a couple of miles away, minutes, while Cruz Bay is closer, yet far enough away that it is not a distraction. The unexpected bonuses were the being able to watch the Iguanas in the cactus and trees as well as the many birds that are in the quiet of the treetops that Seascape overlooks. Another treat was watching the Cruise ships line up at night and in the morning to enter and leave Charlotte Amalie, St Thomas. Their lights were beautiful and reminded us that we were fortunate to have this wonderful personal experience rather than be lined up to depart the ship for a 4 hour experience on a crowded island. Another treat that surprised us was how wonderful the hot tub was for warming up in the evening and getting rid of the tightness of over used leg and back muscles. This home was wonderful for both couples, allowing us our personal space as well as providing us with a common space to get together to experience the island experience. The close in remoteness and unbelievable overlook of the bay and St Thomas was wonderful. The kitchen facilities made it possible to unwind and not have to go out unless we wanted to. The owners communicated well with us and we were familiarized with the stores and town so that we were able to take full advantage of the full vacation. While we only spent one week at Seascape we feel that we enjoyed the activities of two weeks by being able to enjoy much more than we expected.

Date of Stay October 1, 2011
me and my wife had a wonderful honeymoon at seascape. the house was beautiful and couldn't ask for a better location. You are literally minutes from downtown cruz bay, and only minutes more away from some of the best beaches the island has to offer. We felt safe and secure, as the house is located in a very nice neighborhood and far enough away so people can't really walk up to the house. the pool and outdoor accommodations were better than expected and the views from the deck were absolutely stunning. the owners were very hospitable. They went out of their way to ensure we had the best time possible and made sure everything was up to expectations. I couldn't of asked for anything better for our honeymoon. we had read reviews that the house was older and outdated. I couldn't disagree more. there was updated cabinetry in the bath and kitchen. with ceramic tile in both and an amazing shower. the televisions could of been better but in reality if you're worried about watching tv when staying on st. john you're wasting your money we spent so much time outside sun bathing, grilling out and just enjoying the island that there was no time for tv. I would recommend this home to anyone and don't think you will be disappointed. hope everyone enjoys there stay as much as we did. thank you jan and bill:-)

Go to SeaScape
Go to St. John Villa Rental -- List of Vacation Rental Villas

Star Villas Reviews

Description of Star Villas from St. John Villa Rental -- Star Villas is a group of 9 separate villa rentals in the Frank Bay section of St. John, just outside of Cruz Bay. 1-Bedroom properties include: Star View, Frangipani, Papaya I, Star of The Sea, Sugarbird, and Evening Star (studio). 2-Bedroom properties include: Star Villa (with pool), Papaya II, Sky Top.



"I can't say enough good things about the attentiveness of Bob and Marlene, the wonderful condition of the accommodations."

"Just back from a week at Star Villa...the villa was absolutely gorgeous..."

"We never expected it to be so amazing."

"The best value on St John."

Go to Star Villas
Go to St. John Villa Rental -- List of Vacation Rental Villas

Starlit Escape Reviews

Description of Starlit Escape from St. John Villa Rental -- Starlit Escape is an immaculate 5 bedroom, 3 bath rental villa nestled in a private, forested valley on St. John's unspoiled east side. Family-owned and managed, the aptly named Starlit Escape is known for its seclusion, peacefulness and natural beauty. Any size group is welcome at Starlit Escape. Perfect for a small family or even a couple wanting loads of space. Starlit Escape accommodates up to 10 guests, making it ideal for group getaways, family reunions or corporate events. Yet, its privacy and beauty also create an intimate, memorable experience for two.



1. We spent a week at Starlit escape with our parents and young kids and we were enjoy it every minute. The house is incredible, lovely furnishing and with an impressive tower from which you can see the green slopes of the island and a piece of the ocean as well as stars (if it's not cloudy).
The house is equipped with all the things you need to have a very relaxed time with kids and for eldest one (books, movies, guides). The pool is lovely, the right size and depth. The yard is beautiful as well.
The owners are great and very helpful and kindly gave us tips about beaches.

2. What an amazing home to spend our 20th anniversary. The villa was perfect for our family. Having everyone under one roof was a comfort to me. From the fresh pineapple each morning to the happy hour tower every evening made our days complete. The beautiful furnishings, and extra touches made us feel at home. Nothing was over looked. Plush towels, beach chairs, coolers, and beach bags made our 10 day stay so enjoyable. We hope to return one day. Thank you for the wonderful memories!

3. We spent the week of spring break in St John at the Starlit Escape. We could not have been happier with our choice to rent the house! It had EVERYTHING that we needed to have a nice relaxing week and it really felt like our home away from home. We spent many nights chillin' on the patio enjoying the cool Caribbean breezes and taking full advantage of the grill and kitchen. After spending the day at the beach, it was nice to come home and take a dip in the pool. If you are looking for a quiet, secluded location this is your place! It is about a half hour drive from the ferry docking station which is where most of the shops and restaurants are located. We didn't mind this one bit since there is a local market just around the corner from the house and a handful of places to eat nearby. You can be to any one of the amazing beaches on St John within just a few minute drive (note that practically anywhere you stay on the island you will have to drive to a beach since there are not any massive resorts along them).
Jared was very helpful in making sure we had everything that we needed and to make our stay the best it could possibly be. The house was spotless and furnished quite nicely. It was the perfect spot to spend a week with my mom and sister catching up on life. We will definitely stay here again the next time we visit St John.

4. We stayed at the Starlit Escape for 2 weeks. The villa was well equipped and absolutely spotless!! The happy hour tower was a fun and scenic treat to be enjoyed by adults and children!! The pool was great for cooling down and relaxing and the hammocks were the perfect touch. Jared and Angie are very pleasant and hospitable, they went the extra mile for us!! They are knowledgeable about the Island and can give great guidance on what to do and where to eat, do not miss ZoZo's - it is by far the best restaurant on the Island and in fact one of the best meals my family has ever had!! There are many great places to eat in Coral Bay close by the villa, such as The Shipwreck Lounge (very fresh fish), Sweet Plantains, Miss Lucy's and The Donkey Diner for Breakfast. It was nice knowing we had Jared and Angie within reach for any questions or advice we needed. My family agrees that we would return to St. John again and return to the Starlit Escape Villa!!

5. We had a blast! The house is awesome-very comfortable and peaceful. Loved the Tower and the pool, the cool nights were great for sleeping.

Go to Starlit Escape
Go to St. John Villa Rental -- List of Vacation Rental Villas

Tequila Sunrise Reviews

Description of Tequila Sunrise from St. John Villa Rental --
Tequila Sunrise is perched on a mountainside high above Coral Bay Harbor. This lovely 2 BR / 2.5 Bath home has everything you need for a perfect vacation. This two-level home has a large and colorful great room opening onto a cool and comfortable covered deck. Enjoy breathtaking views of the pristine east end of St. John and the Caribbean beyond... perhaps you'll even catch a glimpse of one of the whales who call our waters home each winter!



Great family vacation! Enjoyed the beautiful beaches, snorkeling and Tequila Sunrise villa. The beaches that we loved: Francis Bay and Little Lameshur Bay. What we loved the most was coming back to Tequila Sunrise to see the sunset with a bottle of wine. Cooked in every night; with the view that we had at Tequila Sunrise we didn't want to leave. We are sad that we have to leave tomorrow = (. Hope to come back soon.
The Boschetti and Gonzalez Families, Puerto Rico , 07/2011

It only took us a year and a half, but we're finally here, celebrating our honeymoon, and what a fantastic one, at that! The key to the success of this trip has been this beautiful villa and the delightful team behind it! We have enjoyed every moment and every detail of our stay here at Tequila Sunrise! We will be back!
Sadie and John , Lincoln, NE, 07/2011

The beauty of your home and of this island are hard to take in at first, but each day it sinks in more and a new beautiful discovery is made. Thank you for the chance to experience this island and for making the setting so perfect.
Sue and Tom, 06/2011

Thank you for helping us celebrate our 25th anniversary by sharing your house with us. We had a great week relaxing and exploring St John. The house had everything we could have needed. Loved the views! We had a little excitement one morning with a scorpion in the kitchen =) we saw squid at Jumbie Bay, a stingray at Little Lameshur Bay and a turtle at Waterlemon Cay, plus all the colorful fish wherever we went. The only thing we would change is the sunshine for all the rain we had.
Linford and Janelle, Mohnton, PA , 05/2011

Go to Tequila Sunrise
Go to St. John Villa Rental -- List of Vacation Rental Villas

The Retreat Reviews

Descriptions of The Retreat from St. John Villa Rental -- The Retreat on St. John, the smallest and most beautiful of the U.S. Virgin Islands, is a uniquely spectacular oceanfront rental villa. Built with an eye for elegant simplicity, the house perfectly complements the natural beauty of its hillside setting above one of the most pristine beaches in the world. Every room in The Retreat features breathtaking views: stand in the kitchen and watch fish swim through crystal-clear aquamarine waters or relax in bed while looking out across the bay to the island of Tortola. Inside, each room is tastefully furnished with four-poster beds, slate floors, vaulted ceilings, and modern amenities. The Retreat offers luxurious accommodations for up to 10 adults and features a jetted hot tub, a lap pool, a private path to the beach, air conditioning, a gourmet kitchen, and much more.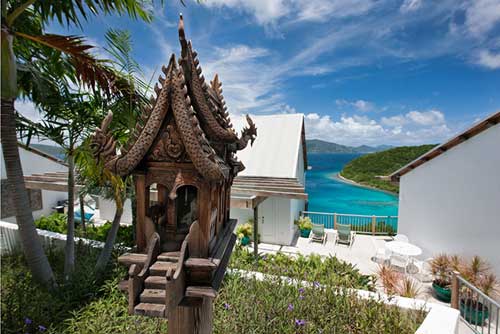 February 2011
Just to let you know we had a great time in St John. Your house is great, what a fantastic setting. Everybody that rents that house must dream of owning it, I know I did. The snorkeling in haulover bay was excellent! Can't wait to visit again. St. John is it!

March 2011
Our 4th trip to St. John, 4th house. This one is a 'keeper'. Love the East End, watching the boat traffic, layout of the house. Most well appointed house we've ever rented. Great way to celebrate our 40th anniversary.

December 2011
Hi Ruth!! We are sitting in the airport bar in St Thomas, sipping "painkillers" and waiting for our flight home.... Sigh... We cannot tell you in words how incredible our week was. The Retreat was EXACTLY what I'd hoped it would be! The open air design, views of Haulover bay, The peace, privacy, water access, marine life, snorkeling, did I mention the privacy?? All were perfect! We hardly left to do anything else! Why leave???!!! Thank you for sharing your special hideaway! We truly enjoyed it. Please let us know if you have retreats anywhere else, as I think we have a very similar respect for nature and living in the environment. Sad to leave... Hope to return someday soon!!!!

January 2012:
Thank you so much for letting us stay at your lovely house. We had a magical vacation and definitely will return, if you allow us! Dena was so helpful and everything was perfect.

February 2012:
We returned home safely and had time to reflect on our experience on St. John. We all agreed that we had the time of our lives and are already planning our next trip there. You were so helpful and welcoming. You really made our vacation stress free. Ruth is lucky to have you and Todd as hosts. We just want to thank you for all the information and your assistance. You are the best in our book! The Retreat is top quality in every way and of course you can't beat the view or the snorkeling. We pretty much stayed put except for a couple breakfasts and lunches out. We liked the Aqua Bistro and the Donkey Diner. Shopping at the Market close to the Bistro was easy and close too. Thanks again, for everything! We all wish you the best until our return,

March 2012:
Hello Ruth! Well our stay at the Retreat was wonderful! It is soo beautiful on this island and the view from your place is absolutely amazing! We will surely be going back to tour different areas next time!

Go to The Retreat
Go to St. John Villa Rental -- List of Vacation Rental Villas

Tradewinds Cottage Reviews

Description of Tradewinds Cottage from St. John Villa Rental -- "Tradewinds" is a two-bedroom, two bath cottage perched high above John's Folly Bay in the quiet Concordia area of St. John, US Virgin Islands. Designed for a couple, honeymooners, or a small family, this charming wood cottage features light, airy rooms with stunning ocean views throughout. The floor plan features a large, light-filled livingroom/eating area/kitchen, one bedroom, and one bathroom on the upper floor. Downstairs, reached by an outdoor stairway, is the second bedroom and bathroom, with a separate balcony overlooking the ocean. There is also fold-out sleep sofa if needed in the livingroom.



Spectacular. We loved this place! My husband and I went for a relaxing vacation and this was just the place. The views were spectacular, the cottage was immaculate, and everything we needed was at hand. The CD collection was amazing, providing a variety of genres, the kitchen was well equipped, and for the beach there were towels, beach chairs, snorkel and fins, picnic baskets, water bottles, etc.
At the cottage we found information about which trails to hike, beaches to explore, where the best snorkeling can be found, restaurants to pursue, stores to shop, stars to name, boats to sail, and excursions to join.
Lois checked in with us twice during the week; if there was anything we needed, she was there. Their friend and house cleaner was also available for questions, but the best was that she is also a massage therapist and acupuncturist. I fully intended to take advantage, but the week went so fast, that we didn't have time.
Ah, yes. We left saying that one week was surely not long enough. I guess we'll have to return to get that massage, experience the beaches and trails that we didn't have time to get to, eat at those restaurants that the good folks in St. John told us not to miss, and next time we're bringing back a few bottles of coconut rum!
- Lorna and John

Beyond Memorable. If you are into privacy and relaxing in a spectacular ocean view setting made more lovely with high wooden ceilings, hard wood floors, and white-washed walls decorated with a fun and tasteful eye...If you'd love the convenience of having your own kitchen and stretching out on a porch overlooking a span of ocean... then this is a can't miss destination!
Tradewinds Cottage was absolutely breathtaking with views of Tortola and the British Virgin Islands from every room...even the shower! And while we were happy to conserve water, I can't tell you how sensational it was to shower in the evenings with the breeze coming off the water and the lights from the islands twinkling in the distance. Even from our cozy bed (complete with netting), we could experience that same view as the ocean breeze and sounds lulled us to sleep. In the AM, we'd witness the sunrise and then lazily fall back to sleep.
The experience we had here was beyond memorable... especially with so many great beaches nearby! We snorkeled with angel fish nibbling out of our hands while Pelicans flew just a few feet away. We shopped, dined and leisurely roamed the island passing donkey, deer, and goats to name a few! This is the type of experience you dream about!
- Lisa and Steve, Florida -- We're going back!

On my last day there I couldn't bear to leave. The only way I could stand it was too book again for the next year!. Tradewinds was just perfect. We spent a lot of time on the front deck surrounded by lush tropical plants and watched the tiny bright yellow bananaquits feed from sugar water we provided.
The house and views were exactly as I had pictured they would be. Spectacular views from all over the island and super snorkeling. It just could not have been more relaxing. Just what a vacation should be! I can't wait to return!
- Denise & David, Hanson, MA

Our visit to St. John was even better thanks to finding Tradewinds Cottage, where we stayed March 13-27. The view is spectacular, the location was perfect for us, and the house just feels like home from the moment you arrive. Every amenity you could need has been provided (beach chairs, coolers, towels, extra blankets and pillows, kitchen supplies, etc). Every morning, I opened my eyes to see the start of a beautiful sunrise, and I couldn't resist getting up to enjoy the full show on the deck. Coupled with the sound of the ocean, I truly can't imagine a more wonderful spot. Salt Pond Beach was one of our favorites, and the proximity to the cottage was just a bonus. We also liked several North Shore beaches, with Francis and Jumbie being our favorites.The Coral Bay side of the island really suited us, too. We only went into Cruz Bay twice during our two week stay: once for a powerboat tour, and again for a dinghy rental. The people and restaurants in Coral Bay were fantastic. Our favorite restaurants were The Tourist Trap (loved everything there and it is an easy walk from the cottage), Miss Lucy's, Skinny Legs, Cafe Concordia and Aqua Bistro. Overall, an amazing trip and the most relaxed I've ever been in my life. Would highly recommend staying at Tradewinds!
- Colleen & Ken Neidert, Toledo, OH

We stayed at the Tradewinds Cottage from March 27-April 3. Love, love, loved it! Clean, breezy, comfortable, beautiful views, it was the perfect getaway. We loved coming home to it every evening. The music collection helped to set the mood. We highly recommend it as a place to relax and from which to launch your daily St. John adventures. Our daughter did a lot of hiking so we tended to stay on the east side of the island which of course was not a problem with all the beaches so easily accessible. Your recommendation of Waterlemon Bay was awesome and yes it was worth the walk. Snorkeled and it was the best day (of course our last) to see so many creatures not seen before. Again Thanks for the home away from home for the week!!
- Jerry, Sandy & Heidi Wagner, Defiance, Ohio

Go to Tradewinds Cottage
Go to St. John Villa Rental -- List of Vacation Rental Villas

Villa IntimaSea Reviews

Description of Villa IntimaSea from St. John Villa Rental -- Villa IntimaSea, located in Chocolate Hole on the beautiful island of St. John, U.S. Virgin islands, is the ultimate in intimate island vacation spots. At Villa IntimaSea you are invited to sit back, kick your feet up and relax where the sky meets the Caribbean Sea. Enjoy an array of shooting stars as you unwind in Villa IntimaSea's plunge pool with waterfall both skillfully blended into the natural landscaping. Villa IntimaSea is an air conditioned, four bedroom/four bath, new island villa that is already enjoying a reputation of having some of the best views on the island of St. John.

My now husband and I spent 2 weeks on the island of St. John. We got married on May 2nd, 2009 on Trunk Bay Beach. We had a total of 7 other family members with us and we all had a WONDERFUL time!! Our villa, Villa Intimasea in Chocolate Hole, could not have been better. The villa staff met us at the ferry dock, assisted us with getting our rental cars, and made sure that we found our way safely to the villa. He then showed us where everything was and helped us with anything we needed. I could not have been more pleased with the assistance we received from all of the staff of Villa Intimasea. They were there for us 24/7, even if it was something as simple as "where do I go for a good burger?". The villa slept all 9 of us comfortably. We had everything we needed (ie: kitchens, washer and dryer, pool, hot tub, a view that is indescribable)!! It felt like home! St. John was beautiful!! I have traveled most of the Carribean, and St. John is my favorite. It has some of the most beautiful beaches I have ever seen!! You can be as busy as you want or as lazy as you want. You choose. We had days where we did nothing but snorkel and sit on the beach, and some days where we drove the whole island and stopped at all the shops and all the historical locations. The wildlife was a blast!! We had bananaquits visit us at the villa and we snorkeled with the sea turtles. The people of St. John were some of the nicest people too! They were helpful if we had questions and they were fun to talk to and get to know. Our favorite bar was the Beach Bar. That is the place to hang and have good food and lots of beer!! St. John made my wedding day like a fairytale!! I definitely felt like a queen!! What amazed me the most was the ease of planning the wedding. I made two phone calls and I had a person to perform the wedding, a jeep rental place, a place to have the rehearsal dinner and another place to have the wedding dinner, a hairdresser, a florist, a photographer, and a bakery. Every person I spoke to and worked with to plan my wedding was kind, informative, and VERY FUN!! I could go on and on and on, but I won't. I highly recommend St. John and I highly recommend staying at the Villa Intimasea. You will not want to come back home!!
CoriAnne Takacs

"We loved everything about our trip to St. John! Thank you so much for all of your help facilitating our stay at Villa IntamaSea - with everything from special accommodation requests, our jeep rental, taxi tours, restaurant recommendations and more. The villa was wonderful, your service was excellent and the island was amazing. We highly recommend the management company and a trip to St. John, US VI to everyone we know!"
Paul and Melinda Butterfield

Go to Villa IntimaSea
Go to St. John Villa Rental -- List of Vacation Rental Villas

Villa Madeline Reviews

Description of Villa Madeline from St. John Villa Rental -- Villa Madeline is built with comfort and luxury in mind. Perfect for one or two couples it offers quiet without solitude, and intimacy without losing convenience. Perched on a hillside in Estate Eden, the Villa Madeline is located between the delightfully uncrowded beaches of East End and central Coral Bay with its shops, bars and dining spots. The renowned Skinny Legs Complex and the Cocolobo Plaza is only minutes away, offering such conveniences as internet services, groceries and video rentals. Take a left at the Coral Bay Triangle and a 15 minute drive will take you to Salt Pond or Lameshur bay beaches. Go straight at the Triangle and the same 15 minutes will give you the choice of St John's famous North Shore Beaches.



Robyn & Declan, ME
Villa Madeline is a fantastic place. We thoroughly enjoyed staying here. Very impressive when we walked in and the table set--very classy! We hit as many beaches as we could in a week. Our favorite beach is Salt Pond--good snorkeling, nice sand, not crowded. You could not have been more hospitable.

Spooners, WI
We had the most amazing week here in St. John. This house is beautiful and the views are amazing. Our favorite beach was Maho--soft white sand and vibrant turquois water.... sea turtles and hungry pelicans! We highly recommend renting a little zodiac and going around the island to Little Cinnamon and other remote beaches. Thank you, your hospitality is above and beyond--we will be back next year!

Jill & Aeron, California
Villa Madeline was perfect, the ideal place for our family of four. Our first visit to St. john was totally enjoyable and we all look forward to returning, Thank you for everything.

Bob, Diane, Jesse and Erica Lang
We're coming to the end of our vacation and had a wonderful time. We enjoyed the villa and its location. Had a fun excursion on "Bad Kitty" and explored all the beaches we could in a short two weeks. Loved the pool/BBQ area and made use of it daily. Chris was great to respond to all of our needs and helped to make our trip a memorable one. We would certainly come back to Villa Madeline!

Go to Villa Madeline
Go to St. John Villa Rental -- List of Vacation Rental Villas

Villa Tamarindo Reviews

Description of Villa Tamarindo from St. John Villa Rental -- Villa Tamarindo is located high atop a ridge with stunning views of St Croix and the Caribbean Sea. We are adjacent to the Virgin Islands National Park and hiking trails to the North Shore beaches are just steps away. Relax by your own private pool on a spacious pool deck surrounded by lush tropical gardens and native forest of the Virgin Islands National Park. Our ridge top location offers constant cooling breeze and breathtaking views of the Caribbean Sea.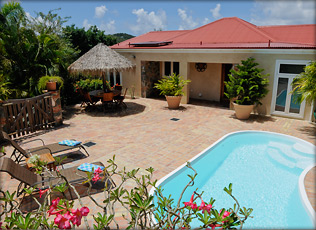 February 28th 2009
Mike -- What a beautiful villa! Your villa far exceeded out expectations. Every detail was much appreciated. We really enjoyed Sheila. Our favorite spots included Cinnamon Bay, honeymoon Bay and Jost Van Dyke. Our favorite restaurants were ZoZo's and The Lime Inn. Thanks again and we we'll be back!
Brad and Patti, NYC

March 7th 2009
Thank you so much for such a wonderful place to stay. The villa was absolutely perfect for us. What a treat that the trails to the beach were in the back yard. Looking forward to coming back hopefully sooner rather than later!
Rachel, Jon and Jonah, Brooklyn NY

March 28th to April 4th 2009
Thank you for a fantastic stay in a wonderful villa! We were incredibly impressed with the cleanliness, amenities, bathroom products, beautiful grounds, etc.etc. We also appreciate the provisions you left for us in the fridge and bar. We did a lot of snorkeling, diving, exploring and eating! We hope to be back soon and will certainly look forward to staying in your beautiful villa again.
Derek and Mona, Brian and Sara, Smyrna, GA

April 7th to April 17th 2009
You've built a very special home on an island of special homes; immaculately clean, well laid out for comfortable island living , & completely equipped to allow guests more time to enjoy their vacations.
Many thanks
Bruce & Jackie, Sandra, Granada, Nicaragua

April 28th to May 5th 2009
Dear Mike, We had a great time at your villa again this year along with my cousin Ruth. We enjoyed it so much last year we had to come back again. Daughter Julie Hoffman came in November too and wants to return. Thanks so much!
Sandy & Dan & Patty

Go to Villa Tamarindo
Go to St. John Villa Rental -- List of Vacation Rental Villas

Waterklip Reviews

Description of Waterklip from St. John Villa Rental -- Stunning ocean views are the first sight for the Waterklip visitor. Entering from the quite street above, through the impressive electronic gate, guests meander down a graceful stone walkway, where the first smiles bloom with the sight of the welcoming pool and patio, overlooking the splendid turquoise sea. Located on the south-west end of St. John within minutes of Cruz Bay, Waterklip boasts all the amenities necessary for a Caribbean holiday. Compact, comfortable and complete, Waterklip is a perfect retreat for couples or small families. The spacious pool deck contains reclining chaise lounges for the sun worshipers who wish to soak up those warm sunny days. A round table with seating for four including a large umbrella is a perfect place to enjoy an afternoon lunch or candlelit dinner. Meandering further along the balcony on the seaside of the house, guests are invited to have a seat and enjoy the fresh sea air, lingering sunsets and watch as the birds and boats entertain the beholder.



03/04/11
If you want to get together with old friends, Waterklip is the place. We loved the convenience to all the beaches, especially Trunk Bay. As Arnold says, We'll be back!

02/20/11
Waterklip is the greatest! Love the view and the sunsets are great. Be sure to try to visit the BVI's on a day trip. Hope to get to Waterklip again soon!

02/07/11
From sun up to sun down we enjoyed every hour of our vacation at Waterklip. Our theme became "Just another day in paradise"

01/09/11
A great value and fantastic views. Loved the pool and proximity to town and shopping.

Go to Waterklip
Go to St. John Villa Rental -- List of Vacation Rental Villas

Windcrest Villa Reviews

Description of Windcrest Villa from St. John Villa Rental -- Windcrest's stunning panoramic view will blow you away. These romantic getaways offer all the comforts and amenities of home on the island paradise of St. John. Nestled in a quiet corner, Windcrest is ideally located above the south shore and Westin Resort, providing island serenity a short drive from quaint Cruz Bay and all its fine restaurants and shopping, the famous National Park beaches, and the many hiking trails of St. John. You can rent either the Loft Suite (with hot tub) or the Garden Suite. Each has 1 bedroom and 1 bath, with shared pool. Or, you can rent the entire villa for a larger group.



We stayed for the first time in March of 04 and can't wait to go back, res. already made for Feb 05. We wanted for nothing,and those nights!!! Oh those Caribbean nights, with breezes coming in over our loft bedroom, waking to a view that took our breath away. Went to lots of beaches, great snorkling-saw a sea turtle! Perfect.
From the Windcrest Guestbook

Windcrest is a beautiful property. The location is very convenient to beaches, shopping and dining. You will need a car/jeep for the island. The area where the villa is located is very quiet and the views are just plain SPECTACULAR!! Highly recommend Windcrest Villa.
From the Windcrest Guestbook

Windcrest Villa was exactly what we were looking for! It was the perfect place to go "home" to after beaching or bumming around all day. Being able to have our morning, and end of the day, cup of coffee sitting on the deck, enjoying the amazing view will be in our minds forever! Windcrest had everything we needed...and even things we didn't think of. Deborah was very helpful with information for us, and it was great doing business with Vicky. We will definitly be going back! We will miss Cubbie too!! Thank you Vicky!
From the Windcrest Guestbook

Go to Windcrest Villa
Go to St. John Villa Rental -- List of Vacation Rental Villas

Wings Over Water Reviews

Description of Wings Over Water from St. John Villa Rental -- Wings Over Water sits at the outer edges of Devers Bay and Bovocap Point surrounded by magnificent volcanic outcroppings and the sea. Wings Over Water is a new (2011) waterfront St. John Vacation Villa! Located in Chocolate Hole, Wings Over Water is on the southwest tip of Bovocap Point. This beautiful, fully air-conditioned villa has been designed and built with finely detailed native stonework and mahogany trim. The villa offers two master suites in separate pods on either side of the property each with full baths and outdoor showers. Wings Over Water has finely executed, local stonework, copper fixtures, and mahogany custom doors and windows throughout.



Jan 10, 2012
"What a wonderful stay. The house was ideal --- warmly furnished, all needs perfectly met. The views were amazing, indeed unparalleled for travelers who have been everywhere. We have never been more relaxed, more pampered, more trouble free. Our thoughts will return often to this island and this house. And so will we."
Jane and David

August 2011
We loved the villa!
It really was spectacular. I am already trying to figure out when we can come back. We would love to stay there again. We also enjoyed renting from you, you guys get 5 stars! Thanks again for everything.
Val

February 2012
"What a beautiful plan, the sounds, the vistas, the wildlife. We had a wonderful time and have many happy memories. Thanks for sharing your home."
Barry and Nancy

January 2012
"The house speaks for itself---and the vista speaks even more! Grand! We look forward to our next visit."
Judith and Walker

Go to Wings Over Water
Go to St. John Villa Rental -- List of Vacation Rental Villas