St. John Condominiums -- St. John Apartments -- St. John Condos
Following is a list of St. John condominiums and St. John apartments for rent. We have 1-bedroom condos and apartments for a couple, and 2-bedroom condos for small families or couples traveling together. Coconut Coast has two 3-bedroom condos for larger groups. Try a St. John condo or St. John apartment for your vacation.

Some of our condos are right on the water. All have outstanding views. All are perfect for a St. John vacation.

St. John condos and apartments include Aqua Bay Villas, Bananaquit, Caribsurf, Coconut Coast, Coral Breeze, Far Horizons, Harbor View, I Delfini, Palmy Daze, Tropical Blessings, Villa Soleil, Windcrest Villa Garden Suite, Windcrest Villa Loft Suite.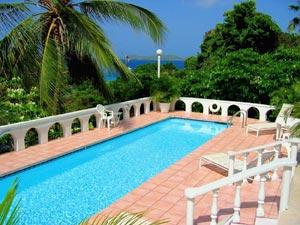 Here is the beautiful pool at Villa Caribe, a 5-unit condo in Cruz bay where you will find Villa Soleil.

For information on St. John condos and St. John apartments, click on the link below the property. Send an inquiry, and you will receive a response within one day. If you need immediate assistance - - -

Email to stjohncaptain@aol.com.
Call St. John Villa Rental at 340-642-3360.

Click below for the complete list of St. John Villa Rentals
Go to St. John Villa Rental -- List of Vacation Rental Villas

==========================================

1-bedroom St. John Condos and St. John Apartments

Aqua Bay Villas -- Cruz Bay, pool -- Villa Suites -- 4 spacious suites in converted manor house 1/3 mile easy walk to Cruz Bay.
Go to Aqua Bay Villas

Bananaquit -- Cruz Bay -- Apartment -- 1/3 mile to Cruz Bay.
Go to Bananaquit

Caribsurf -- Cruz Bay -- Efficiency apartment -- Across the street from Frank Bay Beach.
Go to Caribsurf

Coconut Coast -- Cruz Bay -- Waterfront, pool, jacuzzi -- Condominium (9 units). Seven 1-bedroom and two 2-bedroom. 1-bedroom and 2-bedroom can be combined into 3-bedroom for larger groups.
Go to Coconut Coast 1-Bedroom

Far Horizons -- Cruz Bay -- Pool -- 1 bedroom villa suite/apartment.
Go to Far Horizons

Harbor View -- Cruz Bay -- Pool -- Apartment near Cruz Bay center.
Go to Harbor View

I Delfini -- Fish Bay -- Apartment. Lower story of villa. Excellent views of Fish Bay.
Go to I Delfini

Windcrest Villa Garden Suite -- Great Cruz Bay -- Pool -- Condominium (7 units called Upper Deck)
Go to Windcrest Garden Suite

Windcrest Villa Loft Suite -- Great Cruz Bay -- Pool -- Condominium (7 units called Upper Deck)
Go to Windcrest Loft Suite

2-bedroom St. John Condos

Coconut Coast -- Cruz Bay -- Waterfront, pool, jacuzzi -- Condominium (9 units). Seven 1-bedroom and two 2-bedroom. 1-bedroom and 2-bedroom can be combined into 3-bedroom for larger groups.
Go to Coconut Coast 2-Bedroom

Coral Breeze -- Great Cruz Bay -- Pool -- Condominium (7 units called Upper Deck)
Go to Coral Breeze

Palmy Daze -- Pastory -- Pool -- Condominium called Pastory Gardens
Go to Palmy Daze

Villa Soleil -- Cruz Bay -- Pool -- Condominium (5 units called Villa Caribe)
Go to Villa Soleil

Windcrest Villa -- Great Cruz Bay -- Pool -- Condominium (7 units called Upper Deck). Windcrest Villa is the combination of Windcrest Garden and Windcrest Loft rented together.
Go to Windcrest Villa

3-bedroom St. John Condos

Coconut Coast -- Cruz Bay -- Waterfront, pool, jacuzzi -- Condominium (9 units). Seven 1-bedroom and two 2-bedroom. 1-bedroom and 2-bedroom can be combined into 3-bedroom for larger groups.
Go to Coconut Coast 3-Bedroom

Tropical Blessings -- Cruz Bay -- Pool -- Condominium (6 units). 2,000 square feet, central a/c.
Go to Tropical Blessings

==========================================

Click below for the complete list of St. John Villa Rentals
Go to St. John Villa Rental -- List of Vacation Rental Villas